Joined

Jul 4, 2007
Messages

13,641
Reaction score

69
Location
Foose On Kill... 919HP/880TQ 4.8L - PerformanceTrucks.net Forums
Foose On Kill... 919HP/880TQ 4.8L


Well after a long fuel battle, I finally have what it takes to let this nasty bw 475 billet turbo from BoostLab do it's thing. VERY VERY happy with the truck and whats it's done. I will be going the 1/4 mile tomorrow to get a new slip!

Latest engine/setup.

4.8L with 111k
Untouched bottom end, stock non-ported heads.
Comp Dual 675 spring/Comp Pushrods
ARP studs, ls9 Gaskets
TBSS intake with stock 78mm TB
Speed Inc Tu1 cam 225/225 .581 .581 113+1

Dual Walbro 450
8an feed 127lb injectors at 58 base
Fuel lab 1-1 FP regulator

KB-Racing manifold/hot pipes/cold pipes.
BoostLab BW 475 w/billet 11 blade wheel, race cover
83/74 turbine 1.10 a/r, full 4" with Borla to rear bumper

CircleD and JakesPerformance for awesome trans/convertor.



Low down on today..

4 Pulls. 100% E85.

First was pig rich,17-18psi 755HP/721TQ
Next Less fuel more boost at 19psi 816/800TQ
Goal met! However, with so much left on the table, went with more boost at 22psi and no air filter. 877HP/822TQ

Lastly, my mind racing already I noticed the 800s goal came and past pretty easy, so damn close to 900 wheel. I/we decided instead of boosting for it, hit a 35 shot on a 5500-6500 window. However, I have to get it figure out but HP still turned it on and off during the pull, then on at 5500 full. You can see in the video what i'm talking about, redlight is power to the nitrous solenoids.

This engine is nuts. Headed to track tomorrow to see if I get a new slip to hang on the wall and see she'll hold together for 9 seconds. Then Monday i'm driving it to Ohio to visit the family because street truck!
All boost: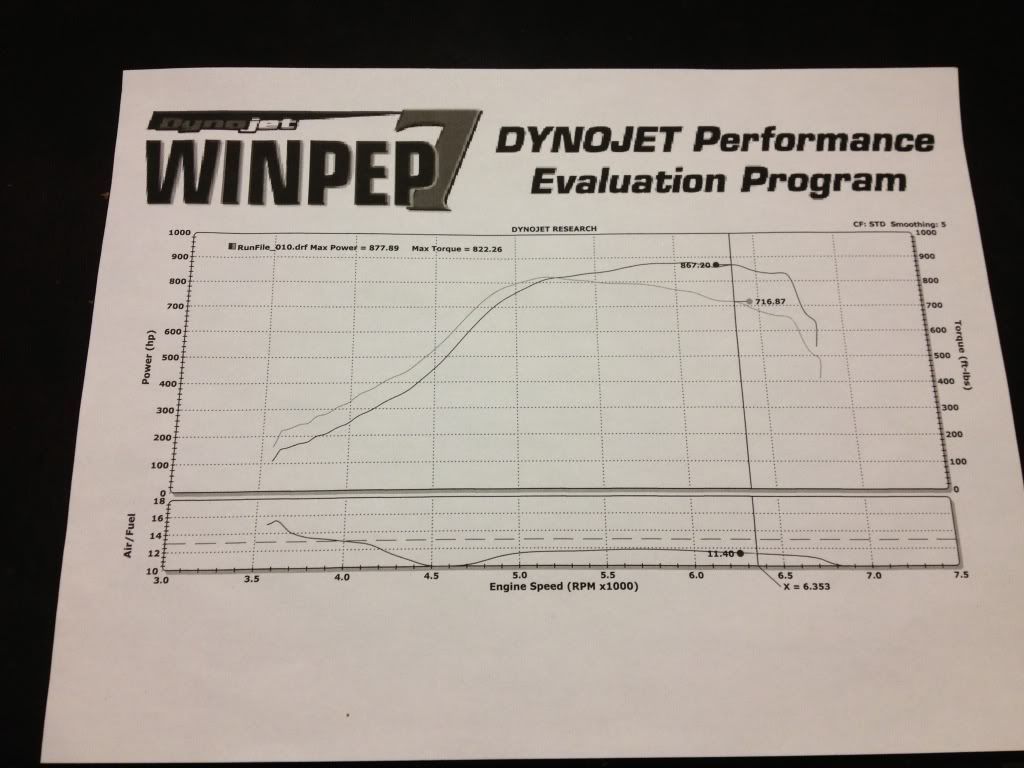 All Pulls: