A person should NOT believe in an "ISM"
Joined

Oct 13, 2008
Messages

1,356
Reaction score

0
Location
UPDATED: Parts 4 Sale (only G.M. vehicles 60's, 80's and late 90's to early 00))
For sale are some parts my father and I have managed to accumulate over the years. We are OPEN to
ALL

-->

REASONABLE

<--

OFFERS
. ALL prices are NEGOTIABLE...MAKE AN OFFER...
Contact me via e-mail:
[email protected]
- - - - - - - - or phone: (815) 861-9753
Right now, we are selling:
Chevy RS Rims
Edelbrock Tubular Exhaust System

HULK

speed Ported Exhaust Manifolds-

TRADED

Special Edition Grand Prix heat extractors
W-Body front motor mounts-

TRADED

Mid 60's (1964 to 1968) midsized convertible top
10 bolt posi (12 bolt innards)-

SOLD

Various 1983 to 1986 Monte Carlo parts
Black 1986 Monte Carlo SS
First is a set of red Camaro RS rims (15 x 7). These particular rims came off of a red 1991 Chevy Camaro. 3 of them are not mounted and are extremely nice
ORIGINAL
(unmolested) condition. However, there is one, which has a Firestone tire mounted on it (size 215 / 65 R15) and is not in very good condition (see the picture below). These are the style same rims that Chevy used for a short time on the S-10 pick up. I bought these to go on my 1984 Monte Carlo, but it was involved in an accident and never went on the car. Being I have had these rims since 1991 or 1992, I know that have only been mounted for a short time. NO CURB RASH, only one small DING, but NO DENTS, comes with centers and lug nuts. ASKING $100.
These rims will fit 1978 to 1988: Grand Prix, Monte Carlo, El Camino, Conquista, Cutlass, Malibu, 1983 - 1992: Camaro, Firebird, Trans Am, 1988 to 1994+: S-10rear drive.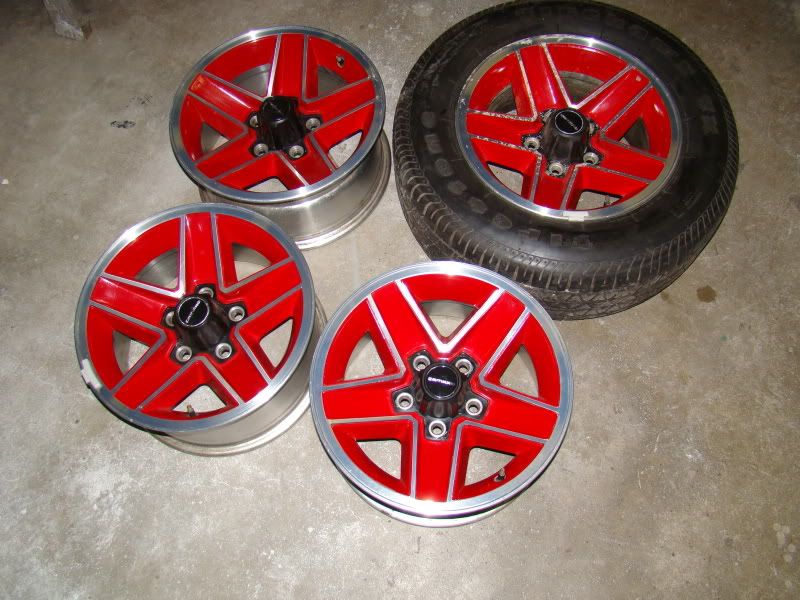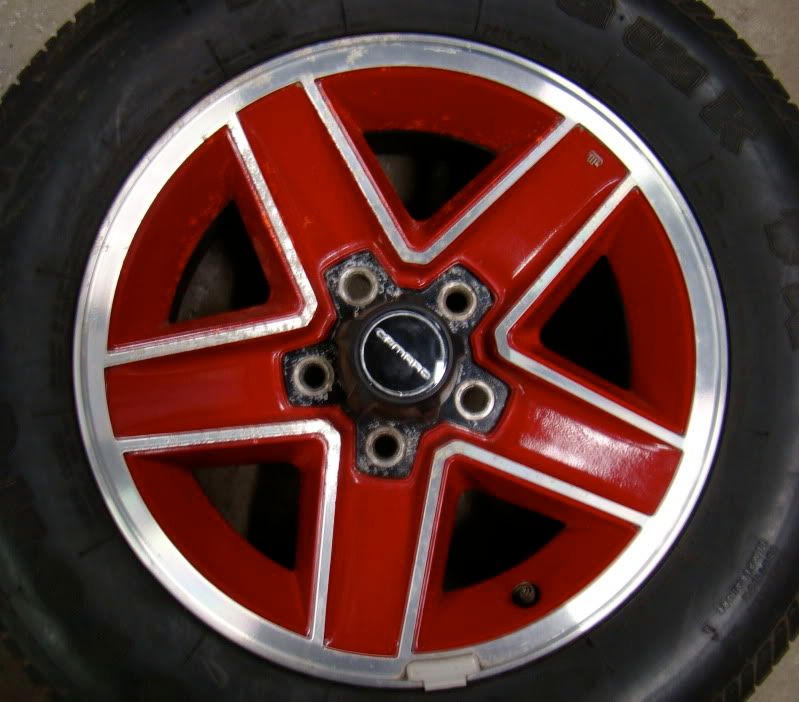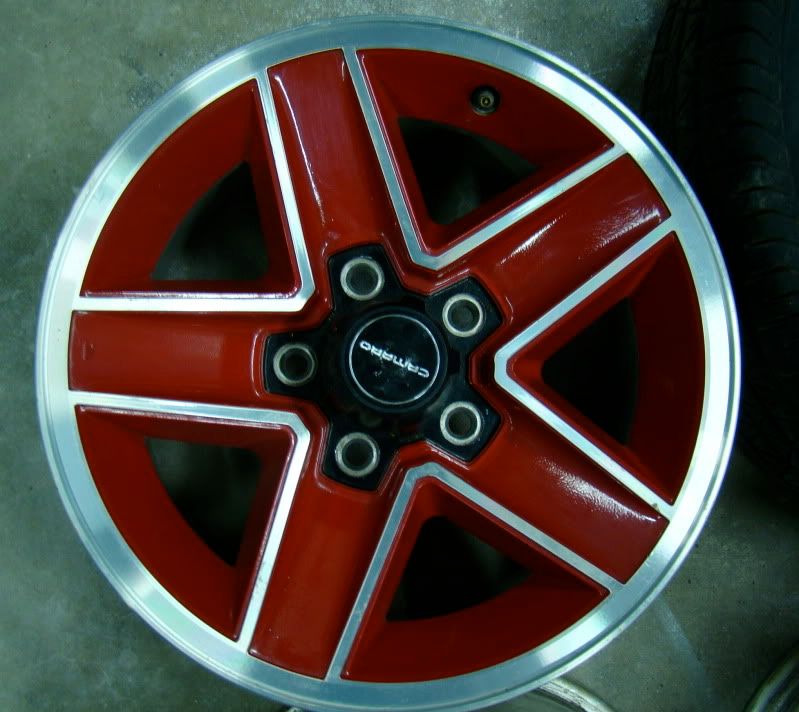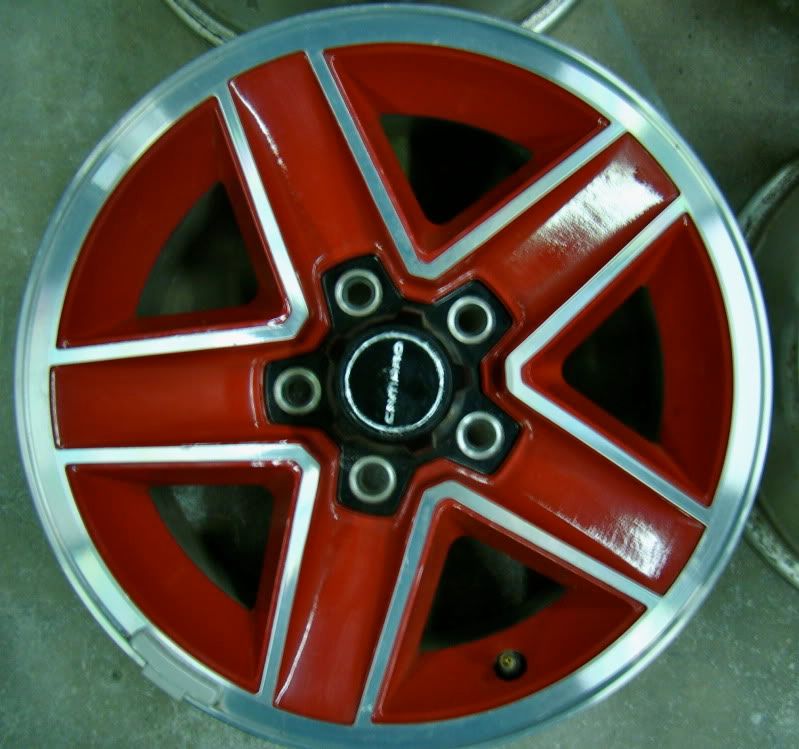 Here is the damage to the one rim which is mounted. The paint has changed to a yellowish color. I'm not sure why or how this happened, but it is what it is.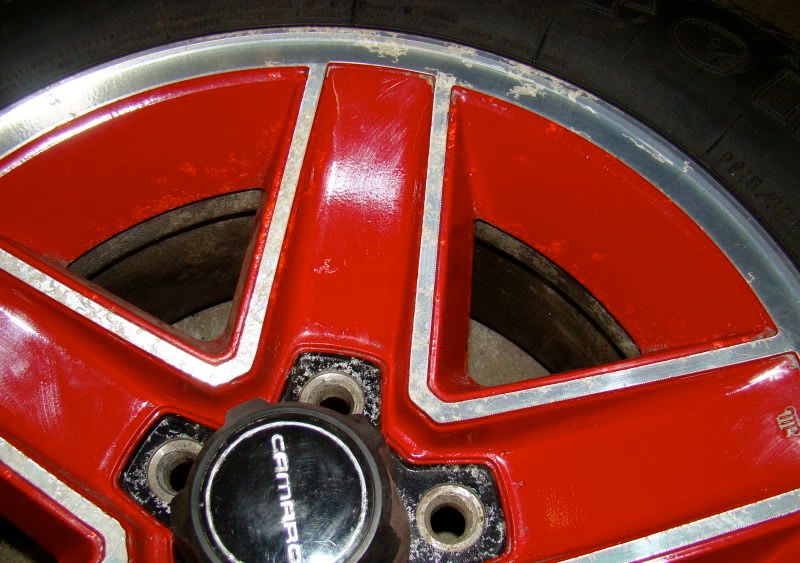 This is a complete set. It's an EDELBROCK Tubular Exhaust system (PART # 6878 3), that I was going to use on my old Monte Carlo. These are "jetcoated" silver and have NEVER BEEN USED. The system includes gaskets, bolts, tubes and connectors to bolt right in. These are 50 STATE LEGAL and have the pollution control tubes built in. The same kit is for sale right now on eBay for a fuzz over $473 with shipping. I'm asking $425 or best.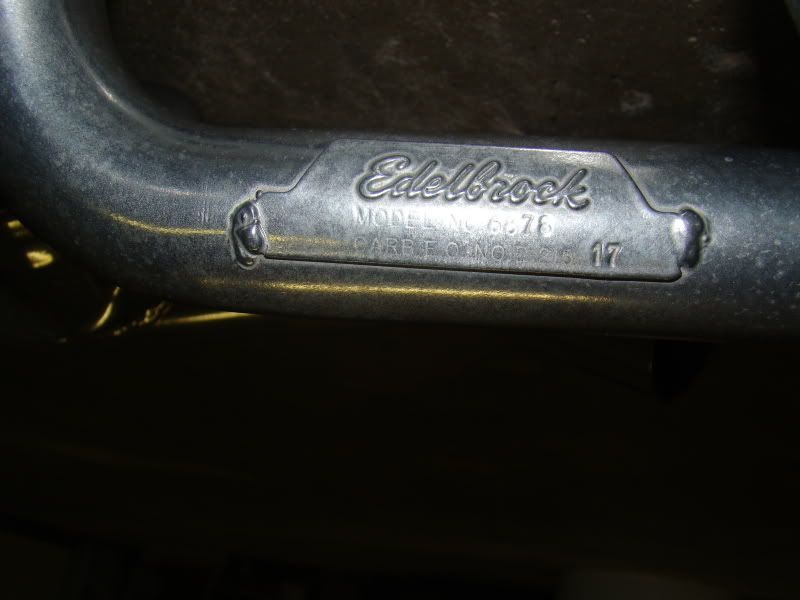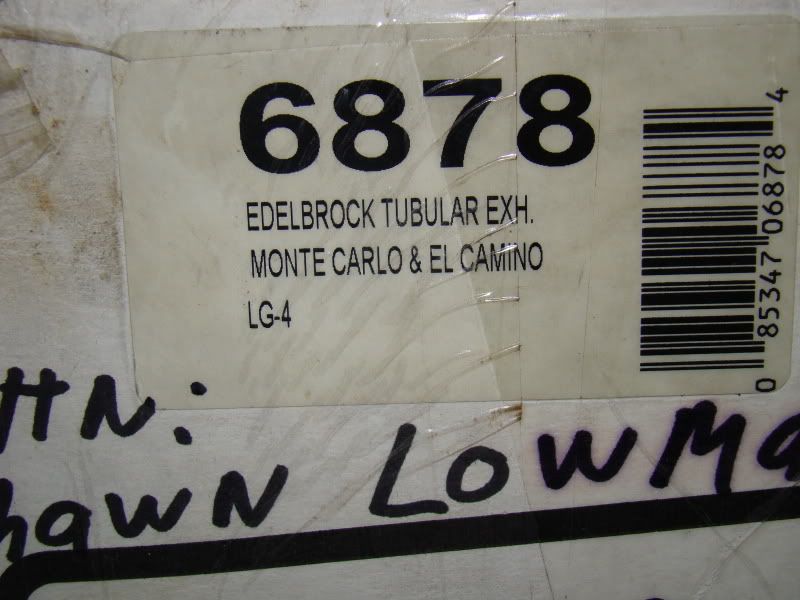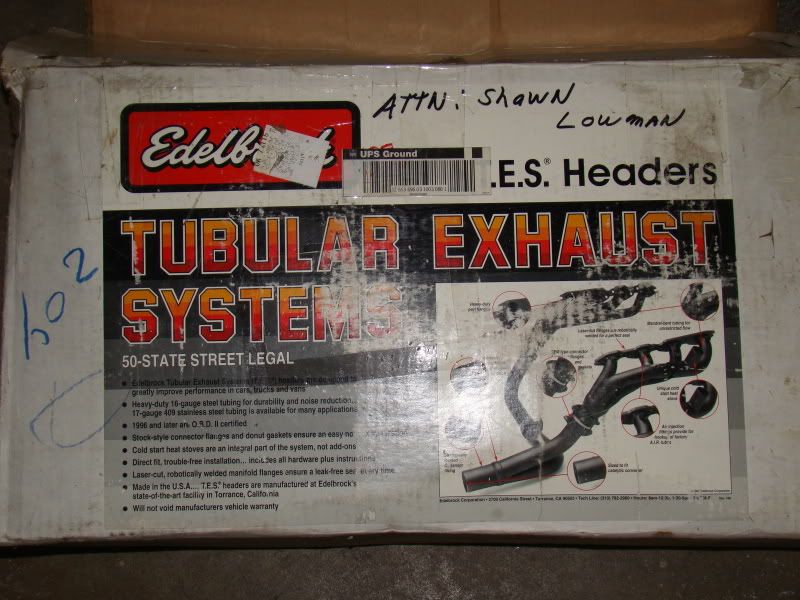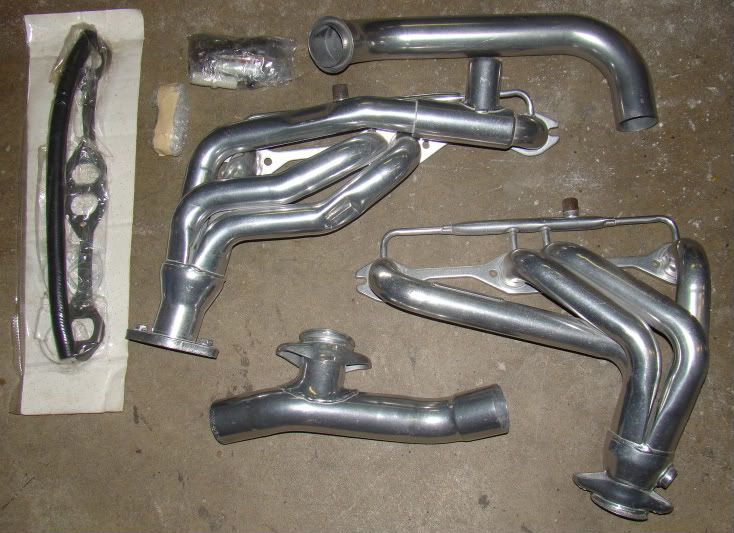 Also for sale are Special / Anniversary Edition heat extractors for the Grand Prix. These came off of a purple 40th Anniversary Edition Grand Prix. They were in extremely rough condition. I was going to use these on my car, but came across something else I would like to use. These are becoming VERY hard to find. I do NOT have the part which goes on the underside of the hood, however, they are not needed (if placed close to the proper location) $100.
Though this actually belongs to my father, I?m listing this for him. This is a convertible top bow for a mid sized GM convertible. I believe this came off of an 1965 Oldsmobile. The header is in exceptional condition and is NOT RUSTY. See the pictures for condition. Feel free to ask questions. Asking $275.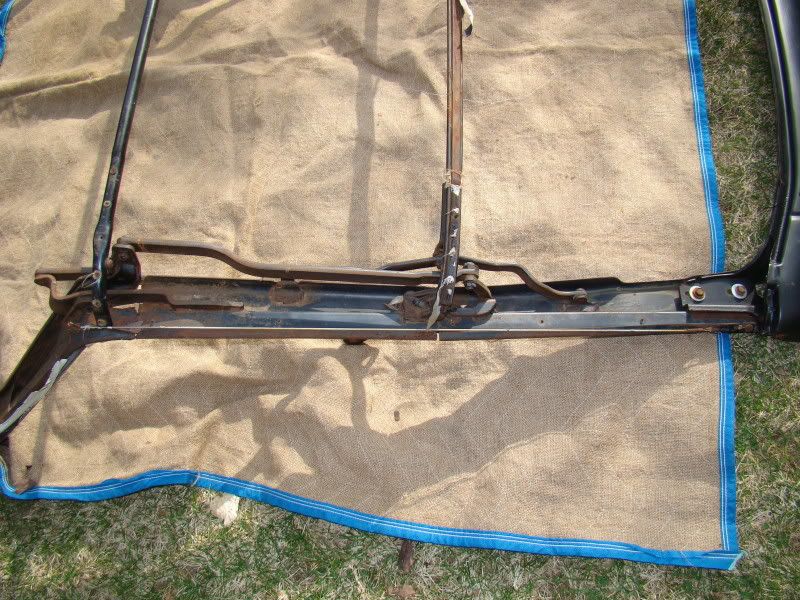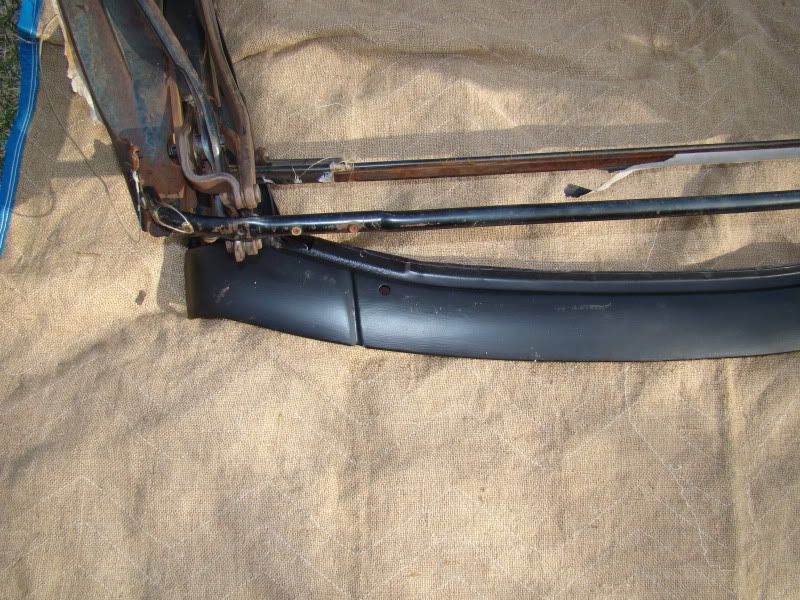 THE FOLLOWING DO NOT HAVE PICTURES, but I can post some if there is interest.
I also have a 10 bolt posi (3:23 gears). Apparently, from what I've been told, this came out of a large car. The gears inside the pumpkin have a date code from October of 1965, which means it came out of a 1966 model. This is a 31 spline 5" rear end with 10 bolts on the pumpkin, but the posi is a 12 bolt. We suspect the car it came from was ordered with a tow package. This should fit full size cars from 1966 to 1972 (when GM changed the body and underpinnings). Pictures will be posted soon. This comes as one piece, hub to hub with no drums. SOLD LOCALLY $100.
***Pictures available upon request ***
I also happen to have a whole host of Monte Carlo and Monte Cartlo SS parts, including, but not limited to:
Monte Carlo SS Chin
Side Marker lights (red)
NOS Monte Carlo "Rallye" huibcaps
Burgundy T-Top Plastic trim
Some Gray T-Top plactic trim
Finally, anyone interested in a Black 1986 Monte Carlo SS with T-Tops, feel free to message me. The car has orange/red factory stripes, a burgundy interior factory 15" aluminum alloy wheels (wrapped in BF Goodrich T/A radials) and is in good to excellent condition. The car still has it's original exhaust, hoses and 1 or 2 original belts (I believe). I don't have any recent photo's of the car, but if you are interested, I can send you as many pictures as you would like. PLEASE NOTE, this car is show worthy and will come with a few other NOS parts (Shift handle, rear burgundy floor mats, air cleaner snorkel tubing, shop manual, factory post card, and other things I have forgotten I have).
*** Pictures available upon request ***
Last edited: