I had the privilege of picking up an SS just recently.
I was in search a of new(to me) mid size SUV that was reliable, could tow, looked good, and fit my price range that I could spend on a daily driver. I was dead set on a 2003+ 4Runner V8 since it met all those requirements; the problem, though, was for the money I was willing to spend (15K, +/- a few K), I could only pick up old, high mileage V8's. I've never had an American before, nor have I ever really liked them, but of course a buddy of mine showed me the SS in more detail when we realized I was getting nowhere with my SS search.
Now, I was dead set on either a white or silver truck with 60K miles or less. My only requirement was the leather...I needed nothing else. Well, of course, now I had an impossible time finding a TBSS that fulfilled my requirements.
After a whole bunch of searching and waiting, I stumbled across the Superior Blue 2006 AWD TBSS with 59,480 miles on it (go figure, RIGHT under my required miles!) and was FULLY LOADED! I didn't need or ask for it, but it had everything you can minus the rear entertainment system. Also, I'm nt a "color" guy...my cars are all black, white, gray, or something typical like that. When I learned that Superior Blue is one of the rarest colors for the truck ever....well, plus it looks really good....I had to have it.
We negotiated a price and I had one of the most pleasant car buying experiences ever...minus the drive home. You see, the truck was in PA, and I flew out to go get it on Feb. 4th...I was completely oblivious to the "SNOWPOCALYPSE" that was coming! After I landed, I'm picked up by the owner/seller. We go back to his place, finish our bill of sale, and I'm on my way. I planned a little trip since I had people in Harrisburg, PA to visit, and I'm driving from West Chester.
I was about 20 minutes into the 1.5 hour drive on the highway when I noticed this little snow started picking up hard....really hard. By the time I got to Harrisburg, I'm getting squirrelly on the off ramp and having a fun time just keeping the truck straight in the lane! I was in the left passing lane when I noticed I was passing a silver TBSS...the dude tried to keep up with me, but must've been a RWD model or he just wasn't accustomed to driving in crazy snow like I am back home in Chicago :bum:. When I arrived at my buddies pizzeria, I was already struggling for traction on any downhill slope...the truck just keep sliding down with the brakes engaged :coolthumb:.
Thirty minutes later, I figure out how to turn of traction and stabilitrak, and the insanity ensued. I'm still waiting for him to post up that vid, but me and a Subaru 2.5RS were just ripping up this packing lot; there was already a good 7-8" of snow!
Fast forward to the next morning, about 10:30AM. It's only now starting to finish up snowing. We were out in my buddies ridiculous Ford Super duty turbo diesel truck with humongo tires and 800lb.ft. of torque...now you know it's a bad storm when this thing can't move up the driveway and gets completely stuck:
Then let's walk over to my truck, which we parked the night before at 10pm. I had to charge up the hill all the way to the final parking spot because the snow was that tall. Let's walk over to it...JEEBUS! Haha, one side looks like it became a Jeep Commander with how boxey it was!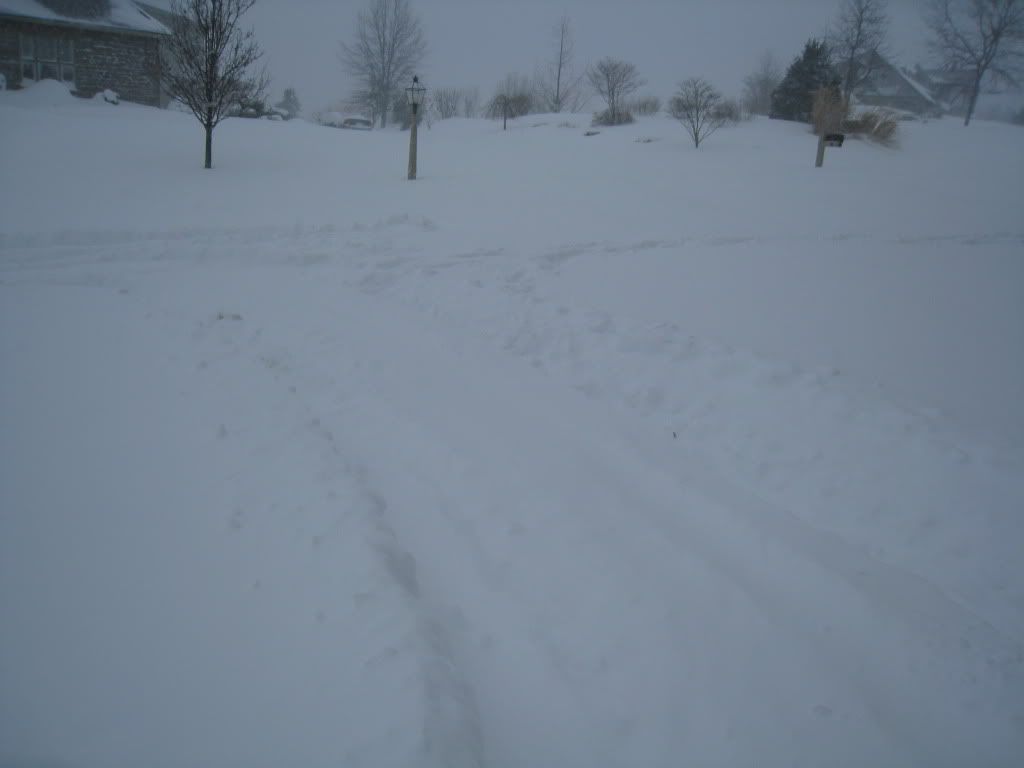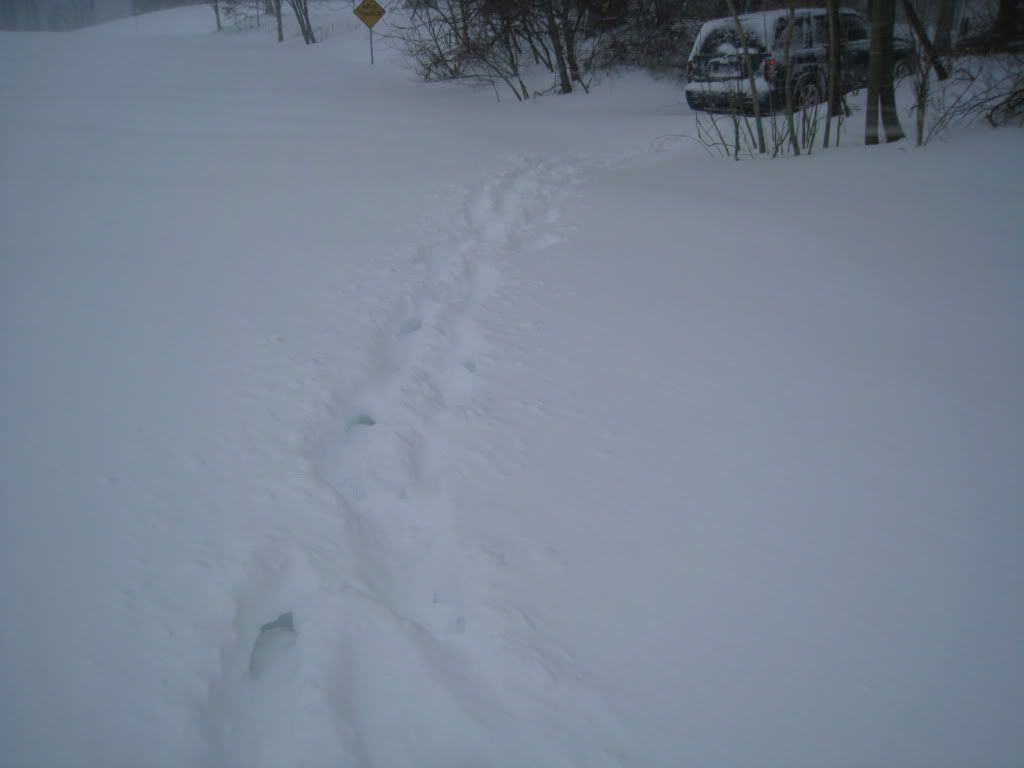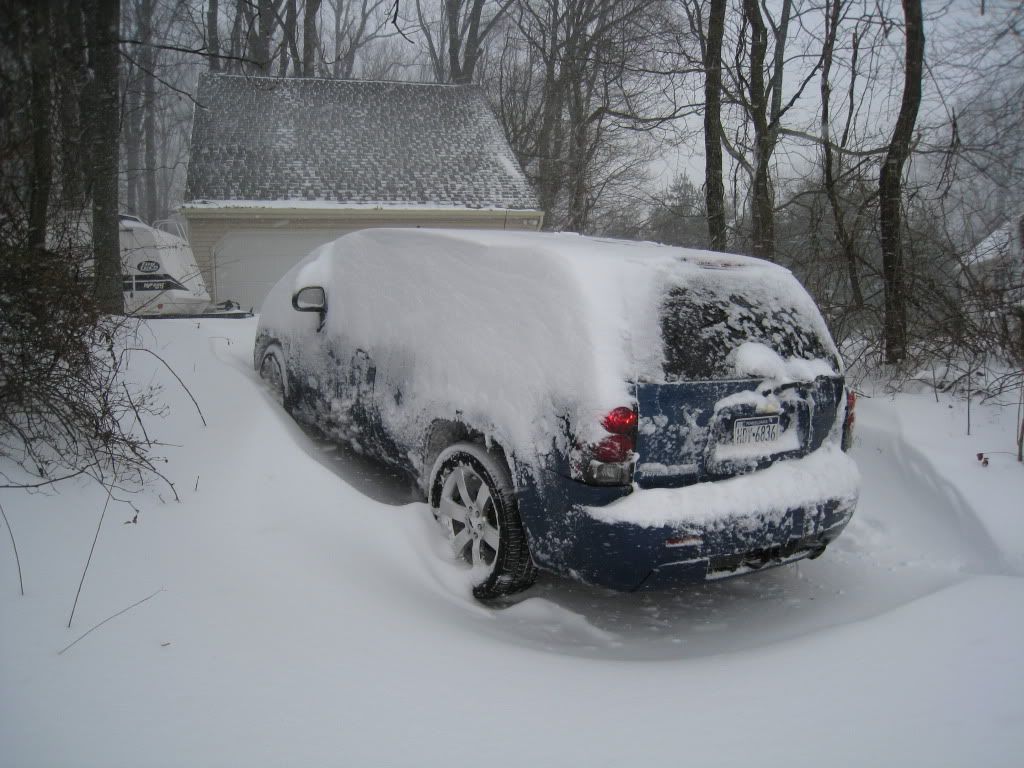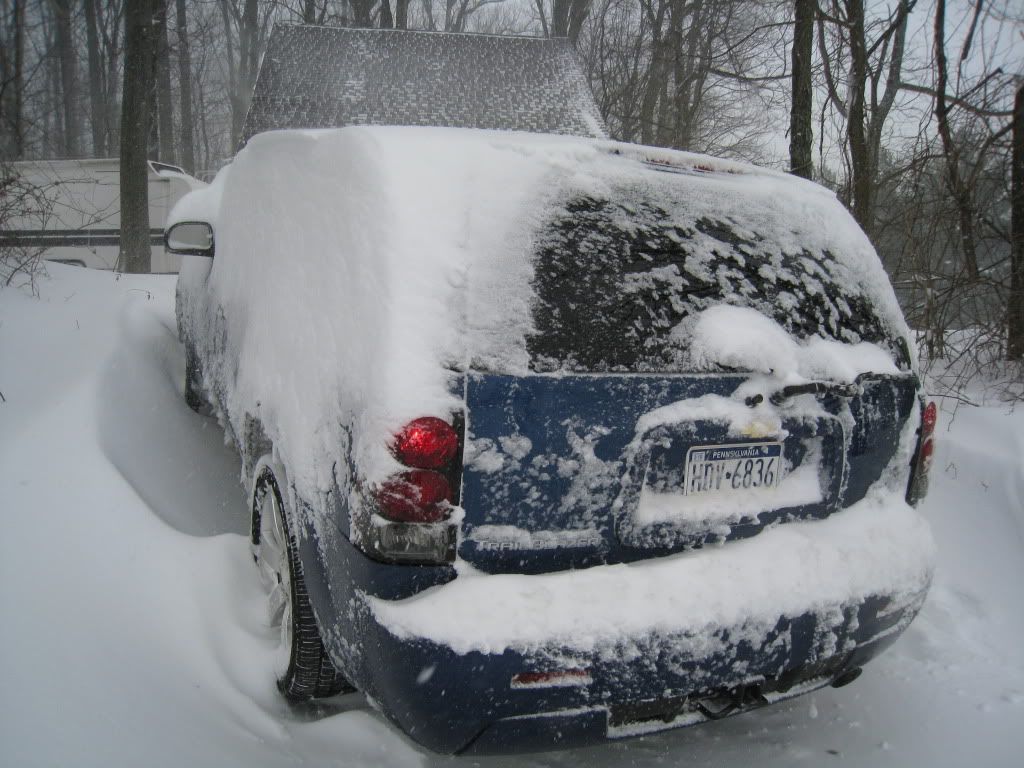 How's the front looking? Oh wow...
Wait, I see a resemblance to the Evo X a little bit...let me do some art work...
Wait, one more thing...BAM!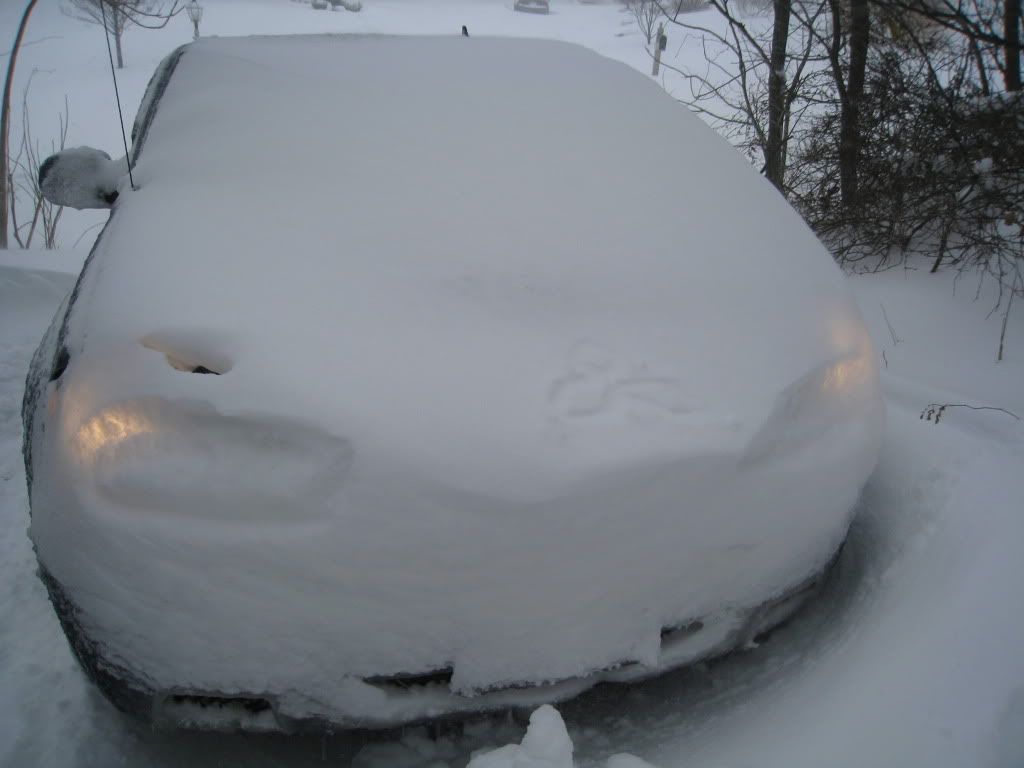 Well, we dug out the truck and I was finally on my way around 11:30AM. Stopped by my bud's (Brother's Pizza in Harrisburg, PA) for a bit of food and then started the long drive home. I'll spare that long story because I can write a whole thread just by each state that I crossed with the amount of crazyness I saw!
I make it home in great time, and what a nice drive home it was...minus the mileage

...which STILL sucks right now...but hopefully not for too much longer.
So I finally get home to Chicago...and 2 days later this crap happens!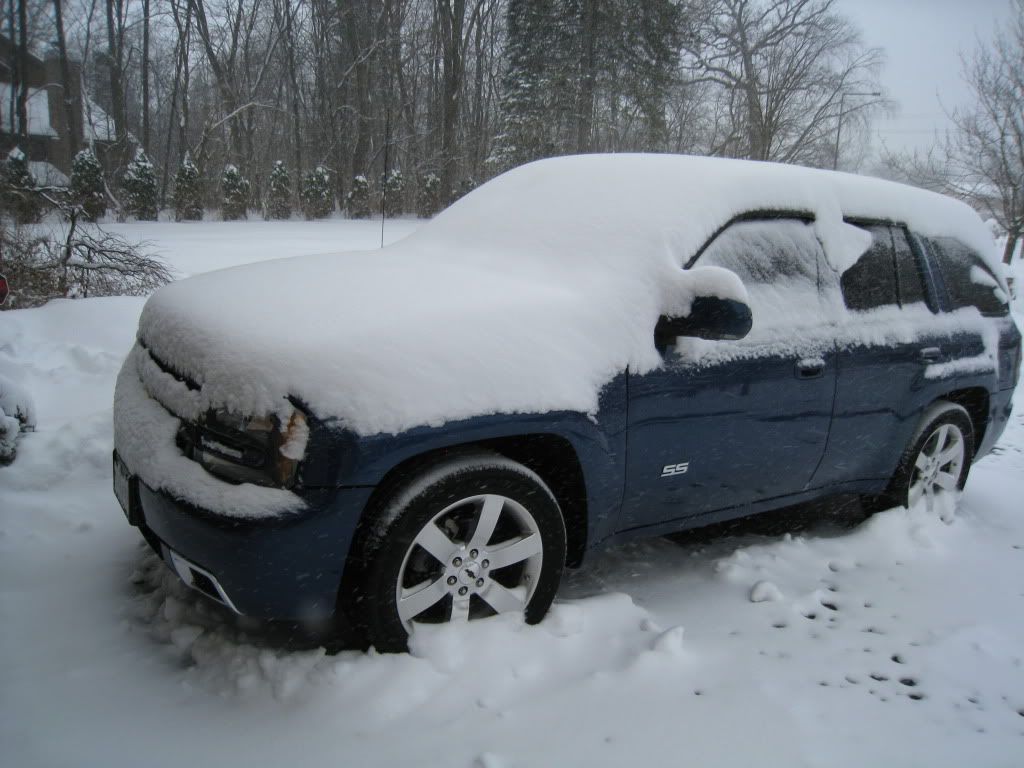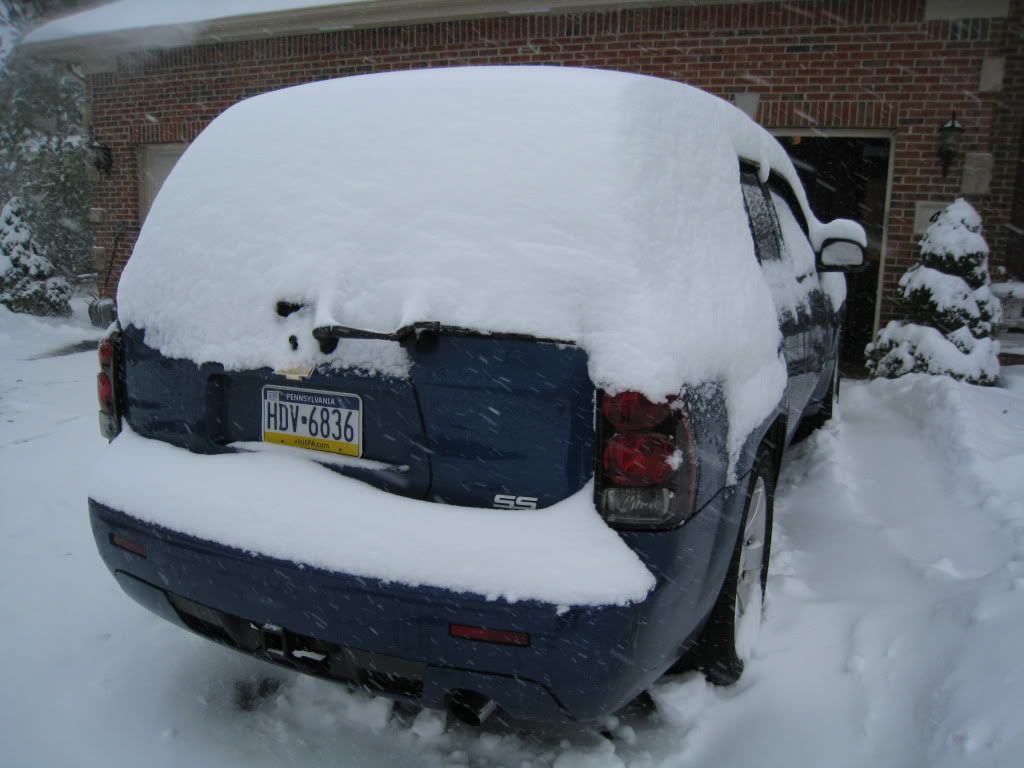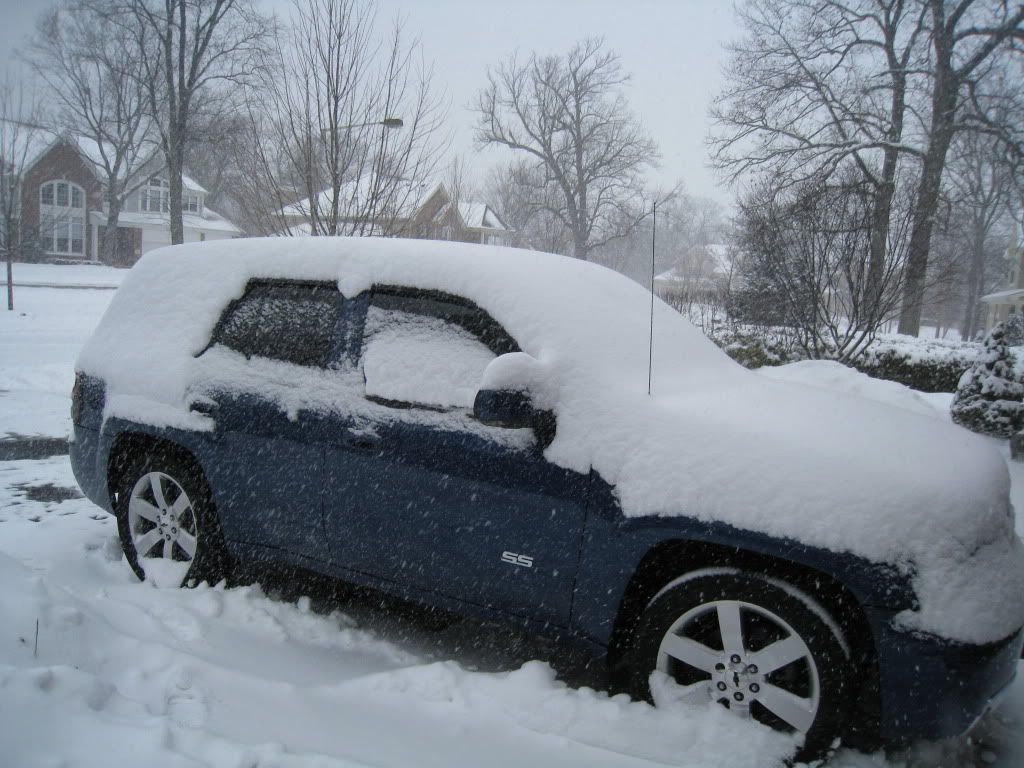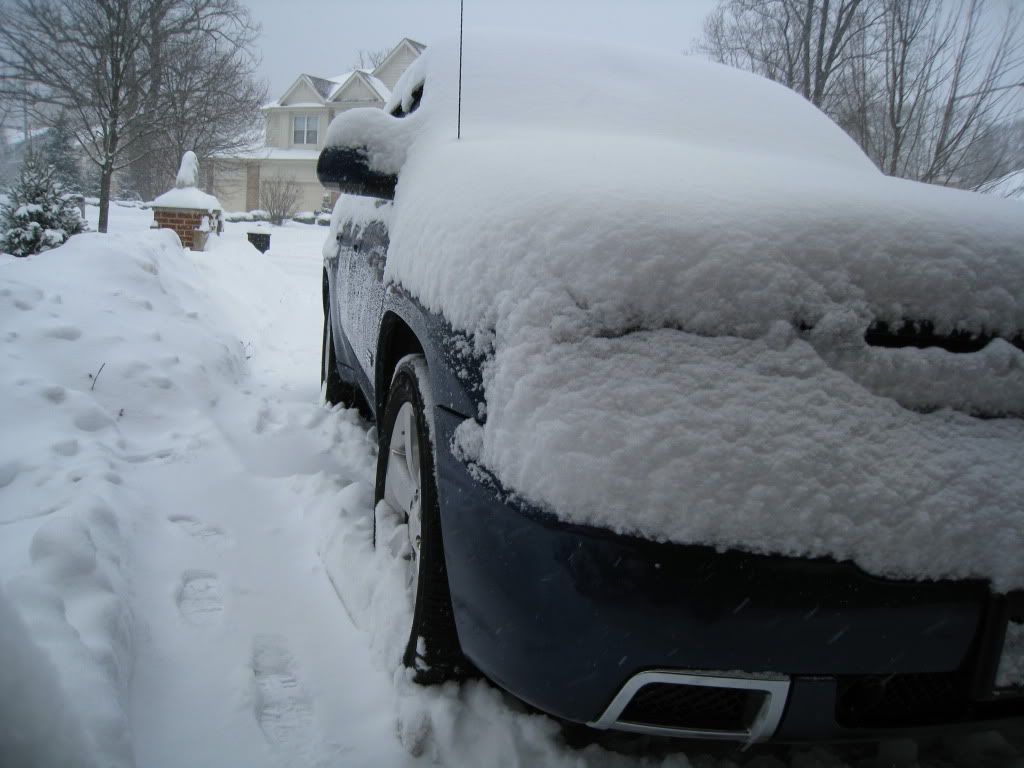 I've been enjoying the truck as it was stock, but of course the modding bug bit me....hard. Kooks 1-3/4" Headers, off road y-pipe, Magnaflow cat back, PCM trans cooler, PCM C6 E-Fans, IeatSRT8 "X" Intake with IAT relocate, tune, 5000K HID low beams, 3000K HID fogs, and Viper "Smart Start" have all been ordered

. I went and got it dyno'd for a baseline, here's vids of that:
http://www.youtube.com/watch?v=OyhaAgv8oQs
http://www.youtube.com/watch?v=EaLkst3Qs00
Well, that's all folks! Thanks for reading, and hello again. More vids and pics coming as mods come along. I can't wait to fully detail this thing in about a month.
-Mitch