Well-known member
Donating Member
Joined

Jan 18, 2014
Messages

1,692
Reaction score

41
Location
Figured I'd make one of these. In addition to the below I upgraded all the suspension as well as lowered. Corsa axle backs installed. MGW shifter and SS Clutch line. On to the most recent that was completed this winter through today.
Did a little under the hood stuff, I did everything myself and it may have taken awhile but it was done and done right. My first pulley change was a success. Forgive my excitement as it was a little stressful when it popped, thought I fucked it up.
Also, went with a one step colder plug, 170 t-stat and went from a 110mm to a 123mm JLT Big Air kit all with a VMP Tune. Looking forward to getting her Dynoed. I am told I should be around 550-575 RWHP.
Made some changes to the rear wheel housing making more room for more tire. Removed the bumpstop bracket and relocated the actual bumpstop.
Now to the appearance upgrades. I am a big fan of the 2013+ cars as far as the front end and rear end. I took off the front end clip and changed out to the 2013 grilles. Had to do some modifications to make the lower grille fit but I am very happy how it turned out.
Before: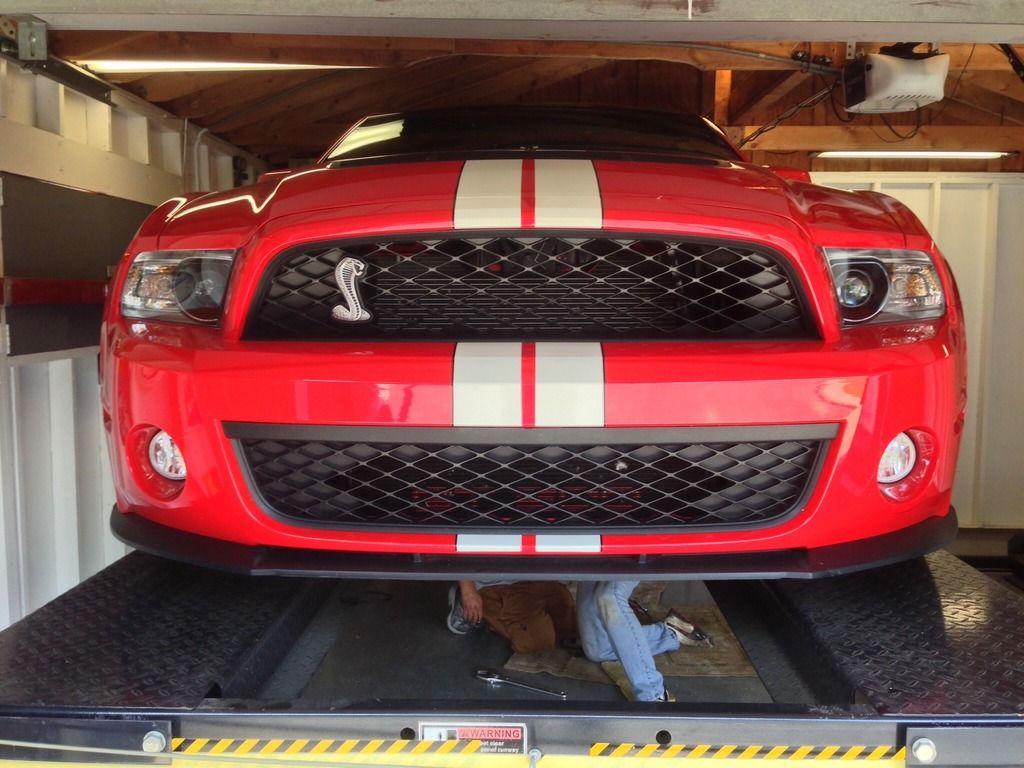 After:
I headed to the back as my wife bought me a set of 2013 tails (got a deal) for quitting smoking Jan. 5th (Still smoke free). I put just the tails in and noticed it didn't look right so I went the extra step and added the gap fillers and was able to customize a GT decklid to make it a Shelby decklid. Looks much better now.
Before:
Didn't like just the lights stage:
Finished:
Now to my wheel choice, first off, I did like my previous setup (Forgestar) but when I was purchasing those I looked for a polished or brushed setup and found that I would have to step up to a whole new price range and purchase a Forged wheel. Really think the stripes and wheels have to be close, black stripes the Forgestars would have been fine but not with white stripes. Well, I was able to sell my Forgestar to fellow CMC'er and I got a nice bonus at the beginning of the year. Decided to step up and get what I originally wanted. Placed a call to True Forge wheels and discussed my options with Steve the owner. After looking at wheels and finishes all winter and the first three months of the year a decided on a set of wheels. I went with a dished look with full polished barrels and the SS inner wheel in a brushed finish. I went with the hidden hardware option as I didn't want the headache of cleaning all that shit. I also decided to have the entire wheel cleared for protection. After 9 long weeks they came in Wednesday or at least three did. SMH. I am going to keep this story short and just say the 4th wheel showed up Friday. Steve at TF had a set of Nitto 555r rears and 555 fronts from a display setup and they were the exact tires and sizes I wanted so he sold them to me. It worked out as he would install them before shipping too. Only issue when I received them one rear tire was installed backwards, another SMH moment. Had this issue fixed last night. The last SMH moment is my custom center caps weren't included. Found out they weren't made, now I have to wait 2-3 weeks for those, however TF sent me the standard ones for now. Even though I had these SMH moments, lots of swearing and at one point my crossbar lug wrench was heaved and ended up sticking out of the drywall (tire installed and noticed tire was backwards) it's all good now. I am not a pat myself on the back guy nor am I look at me guy but I couldn't be happier with my wheel choice and wanted to show. Btw, my first experience with DR's and I finally have traction in 3rd gear and some of 2nd. :dance: