Joined

Apr 12, 2009
Messages

566
Reaction score

2
Location
Both runs were on the same car. The ONLY change was the turbo itself.
We have two comparisons here that include both a Journal Bearing and Waterless Dual Ball Bearing version of the Precision 6266 CEA to be compared against the Borg Warner 8474 EFR. Both turbos are 62mm "Billet" wheel versions so we figured this would be as fair of a comparison that could be produced between these two manufacturers.
The 6266 CEA Dual Ball Bearing was tested on a day that was much hot/humid than the 6266 CEA Journal Bearing and EFR Ball Bearing turbo. The power was lower on the 6266 Journal Bearing as a result. Take this for what it's worth.
The test car is easily a "Best Case Scenario" based on its performance on the dyno in the past. These results are easily greater than your average motor being used, so please take that with a grain of salt. We want to thank Craig again for offering his car so graciously for us to continue to provide this data that many find incredibly useful to the community. It takes a lot of time, effort, and labor to do testing like this not to mention the wear and tear on the test car.
Craig's Mods:
Turbo System:
SP manifold (HKS-style)
SP 4" downpipe/midpipe
Fujitsubo Ti Exhaust
SP 3" Boost Activated Exhaust Cutout
TiAL 44mm Wastegate
Greddy 4-Row Intercooler
Hypertune Intake Manifold
Hypertune 92mm Throttle Body​
Engine:
AP Built BC 3.4L Stroker motor
9.5:1 Compression Ratio
Kelford 274 cams
Ferrea Valvetrain w/ STD size valves​
Fuel System:
FIC 2150cc Fuel Injectors
Fuel Lab external fuel pump (boost activated)
In-Tank Bosch 044 fuel pump (soon to be Walbro 400lph)​
Engine Management:
ProEFI Pro128 ECU
ProEFI iBoost
ProEFI E85 Flex Fuel
ProEFI Fuel Pressure Compensation
ProEFI Backpressure
ProEFI Color CAN Display​
Lastly, please understand that this testing is coming from a shop. We did everything possible to ensure that this would be a 100% fair and non-biased comparison. Both turbos received equal testing time to give each turbo the same chance to make as much power possible. As always, there are variables present and are to be taken at your own discretion. I have details some of these major variables but will recap them here.
Variables Review:
Precision 6266 Journal Bearing was tested on an 80 degree day
Precision 6266 DBB & BW 8374 EFR were tested on a 65 degree day
Precision units were Undivided .81 A/R turbine housings & BW EFR Divided 1.05 A/R
NO changes were made with regard to fuel or ignition timing
Engine was allowed at least 15 minutes between runs to cool down after consecutive pulls were made
Ethanol content was at roughly 70% throughout the duration of the testing
Same car & same parts (including downpipe) used with each turbo tested
Borg Warner 8374 EFR vs. Precision 6266 CEA - Supra Dyno Testing & Results - YouTube
Data Analysis:
PTE 6266 CEA Journal Bearing vs. BW 8374 EFR DBB

Results:
Precision 6266 CEA Journal Bearing .81 A/R
843whp & 844wtq @ 29psi
BW 8374 62mm EFR DBB 1.05 A/R (divided)
786whp & 815wtq @ 30psi
​
Conclusions:
130rpm spool difference (BW wins)
57whp (Peak HP) difference (Precision wins)
29wtq (Peak TQ) difference (Precision wins)​
**We apologize for not having the boost curve here. It was mistakenly not hooked up during the Precision DBB unit's dyno pulls. We can verify and confirm the boost with the logs available from these runs.
PTE 6266 CEA Waterless DBB vs. BW 8374 EFR DBB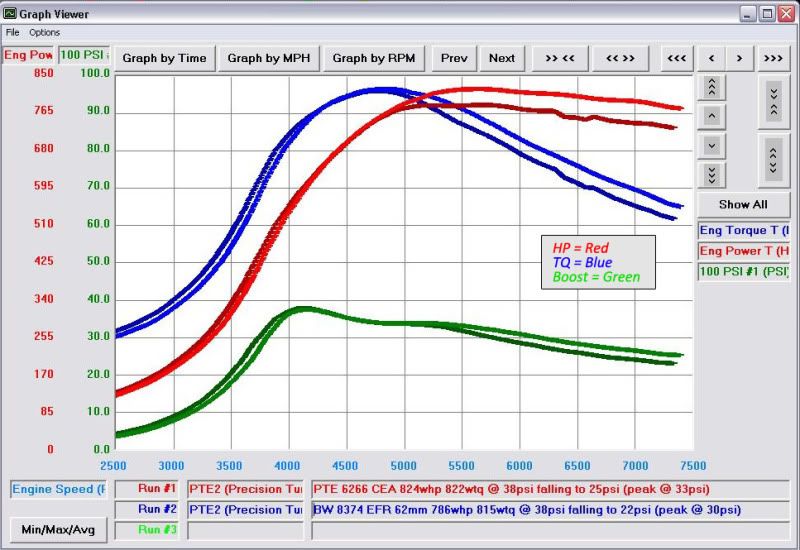 Results:
Precision 6266 CEA DBB .81 A/R (undivided)
824whp & 822wtq @ 33psi
BW 8374 62mm EFR DBB 1.05 A/R (divided)
786whp & 815wtq @ 30psi
​
Conclusions:
70rpm spool difference (BW wins)
38whp (peak HP) difference (Precision wins)
7wtq (peak TQ) difference (Precision wins)​
**We've only included these results for transparency and full disclosure. The hotter and more humid day when the Precision DBB unit was tested hurt both spool and power performance.
**
Note on Ball Bearing turbos:
It should be mentioned that Ball Bearing turbos' spooling characteristics do not shine on the dyno. Initial spool up, also known as the boost threshold, is not what Ball Bearing technology should really be appreciated for despite popular belief. This is not meant to persuade anyone towards or away any particular brand, rather as another variable to keep in mind. We've recorded as much as a 200rpm spool difference on the dyno throughout our recent testing. This could be negligible due to the changing weather factors. It may have been more or less of a difference if this was done perfectly back to back. The same can be said about the BW Gamma Ti turbine wheel and the spool difference would be much more evident on the street with various loads and transient response being a relevant variable.​
Thanks for checking out the results! It takes a lot of effort to get this testing organized and the results collected. We'd really like to thank Craig again for being the test mule for us. We had a fun time!
Reid