As many of you know, I have a relentless love for patina cars. The crustier the better as long as they're not rotten.
For several years now I've been casually looking for a nice solid OG 53/54 Bel Air.
My grandpa and I pulled a 49 out of the orchard down at the farm back when I was 13-14 and got it running and driving, I learned to drive on that thing down around the farm...
Unfortunately the 49 went the way of most projects a 14 year old starts...torn completely down and forgotten about.
As such I've always had a soft spot for these 49-54 cars, they have been overlooked for many years but are starting to come around.
I had some time last week since I was off work so I did some face box marketplace creeping and came across this ad, just 3-4 pics and "1954 Chevrolet bel air 33,344 miles, 6 cylinder, 3 speed on the column. Hasn't been ran in 4 years. Will turn over."
I called the guy, talked for probably 30 minutes, he seemed good and the story on the car lined up - it's an essentially 1 owner, 33k car that is 100% original except tires and consumables. So, I booked a flight down to Atlanta then rented a car and headed south to check it out.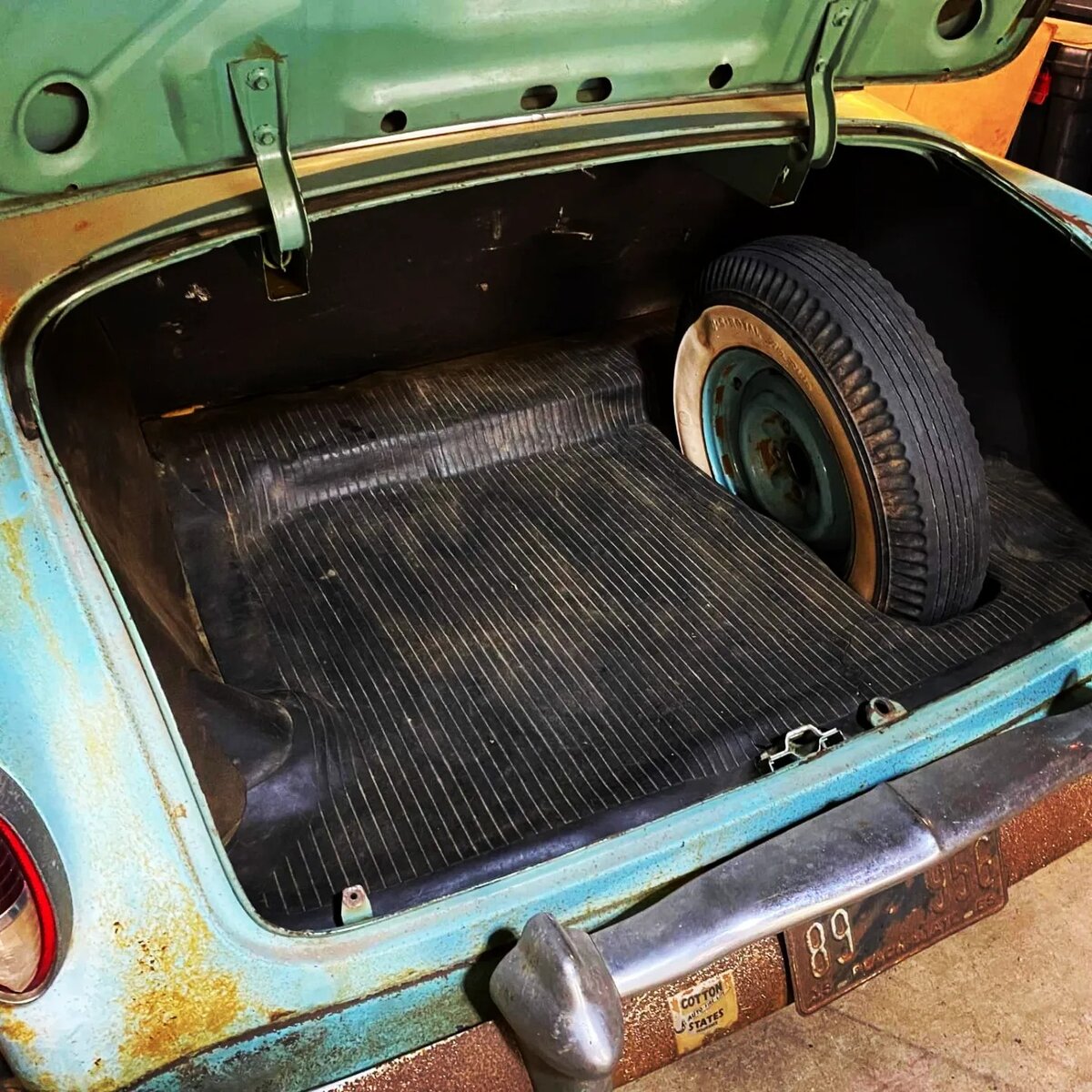 Story checked out, the car is 100% legit, OG paint, interior, etc...judging by the wear on the interior and other items I'm agreeing that its a 33k mile car.
It hasn't been driven on the road in over 50 years - the last plate is from 1969 and the last inspection sticker from 1970.
Plans at this point:
Get it shipped home
Make the 235 run, if it's healthy I'll leave it in there for a little while. Likely need new fuel system, potentially cooling system but I hope not. Definitely need new exhaust system.
Assuming it is I will add an NOS Nicson 2x1 intake, Fenton headers and Mallory dual point distributor I've had since the mid 90's.
Swap stock 3 speed out for a T5
Replace stock 4.10 torque tube rear end with 2010-2011 Ranger 8.8 which is 3.5" narrower and has disc brakes and a sway bar.
Install disc brakes on the front
Replace shit 1 pot master cylinder with dual reservoir/power unit
3" drop all around - gonna cut the coils up front and add a block out back for now...this iteration is temporary...eventually it'll get M2/air/mild LS
Wheel/tire combo I'm still very up in the air on.
I don't want to go as fancy as my C10, this is gonna be our driver car and take it on trips, etc...Wheels that need polishing all the time are a pain if you actually drive something a lot.
Thinking about either 18-20" smoothies and white walls or just have stock wheels powder coated red, slap on some new wide whites and run the stock hubcaps.
Or some semi-basic 5 spoke mag with a gray center. I originally wanted Billet Mag G's but I think they have discontinued them.
If any of you guys have any feedback I welcome it.
That's hopefully how it stays through this year.
This coming winter I want to redo the interior - while the OG stuff is in really good shape, it's also 70 years old.
Ciadella will get me hooked up but it's gonna be close to a 10g affair so it's gonna have to sit a minute as is.
This thing won't be as over the top as the C10 was, I intend on making it a reliable, fun driver that wifey and I can take pile into and trips in and enjoy piling a lot of summer smiles and miles onto.
Anyways, that's where it's at right now. Just waiting on transporter to pick it up and haul it back home.
Once at the farm I'll start tackling stuff on it as the weather warms up.