Joined

Mar 2, 2008
Messages

18,670
Reaction score

90
Location
hey audio dorks, i got a whole mess of things available down at the sickmint79 audio emporium. unless i say otherwise, there is no remote included with whatever unit we're chatting about. all pics are from the intarwebs but i can post pics of my actual units if requested. ok got a bit less lazy so some pics of my stuff are in here as well. please don't ask me a bunch of questions if you can just google or read the manuals instead, i've listed links to many of them below. as a companion to my
so many action cameras
thread, i now have a so many audios thread.
moving in a couple months and some of these things are obvious things i should sell, others i may simply keep as well, kind of mixed. ie. i may just keep all my home theater components and squirrel them away, so i guess this is a mix of feeler / for sale.
onkyo tx-ds575 receiver
70 x5 - 8 Ohm - 20 - 20000 Hz - THD 0.08%
a nice receiver but has some issues. i haven't had this plugged in for a while, but used to use it for my computer. iirc it works but the volume control is working very poorly. maybe that is a repair of a potentiometer? i don't know. it did not lead a taxed life and i would expect it to be rather salvageable. $20
marantz sr7000 receiver
this is my current computer receiver. most receivers are 12-18 lbs. this fella is 30 because it is built. the manual is
here
.
5.1. 100 Watts all Channels at 8 ohms, 20 - 20000 Hz - THD 0.09 %
$80
adcom gfs-3
speaker selector from adcom.
$30
denon dvd-2900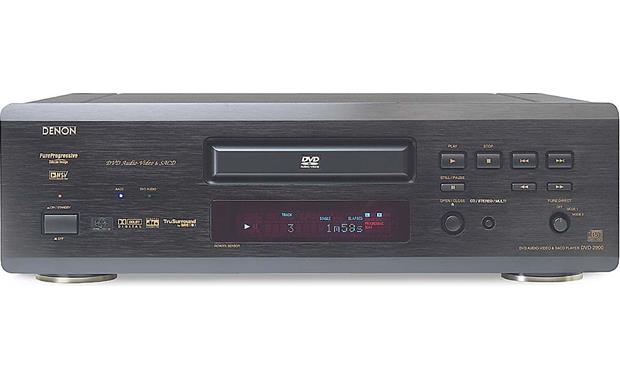 considered a hot boy in its day. mine works but the cover for the atual dvd tray came off. also for convenience you are simply probably playing dvds with something today that is good enough. high quality decoders nonetheless in this. $50
probably sounds way too high for any just a dvd player, nonetheless, i'm pretty confident this will go on ebay for at least this
denon poa-8300 amplifier
part of a pair of very famous amps. i included an open pic so you can see what is inside. it's really basically 3 mono amps. it was coupled with a poa-8200 to provide 5 powerful model channels. the 8200 was sold. my 8300 has some kind of damage from a moron shipping it poorly. it was physically depressed on the back side. my initial inspection inside didn't show something clearly physically wrong to me the last time i opened it up, but i am sure it was working when shipped originally, and i am not an audio repair expert or even amateur. a lot of pricey quality gear is in things thing and i think it is still salvageable and worth salvaging in the right person's hands.
this unit is also thx certified, and the actual fancy thx ultra certification, not the thx select thing they basically just licensed out for branding and put on computer speakers and everything else.
THX certified
120W + 120W + 120W, 20Hz-20kHz, <.02% THD
Triple monaural construction, each channel has its own power supply and discrete output stage
35 lbs
$125
rotel rsp-985 preamp
this is a nice rotel 5.1 preamp with the manual
here
. this is also a real thx ultra, not thx select, preamp. i used it for years with my home theater. it has a remote, i'm too lazy to check which, which seems nicer and more modern than the remote i have with the next preamp listed below actually. i honestly do very little but change volume and the initial set up on either system. which tbh i recall being a little clumsy on both, yet both have worked set up for years for me. it was 2k new.
$180
rotel rsp-1570 preamp
this is a newer generation preamp from rotel with the manual
here
. i see it's funky remote is in this manual too, it is included as well. 7.1 but still 1080p. it was $2200 new and is 22 lbs of pre-amp alone - you need to attach an amp to get power to your speakers of course. not thx. some more specs
here
. it does have an odd quirk in that if i switch between audio sources there can be a hesitation where it seems to be deciding how to decode something. so if i start a new youtube video there might be 1.5 seconds of hesitation as it decides how to decode it. if i sit here and binge netflix i don't notice it or it just doesn't happen between episodes, etc. idna. this is actually hooked up right now. iirc i found the config clumsy but i also set it up once and forgot it. $450
rotel rmb-1095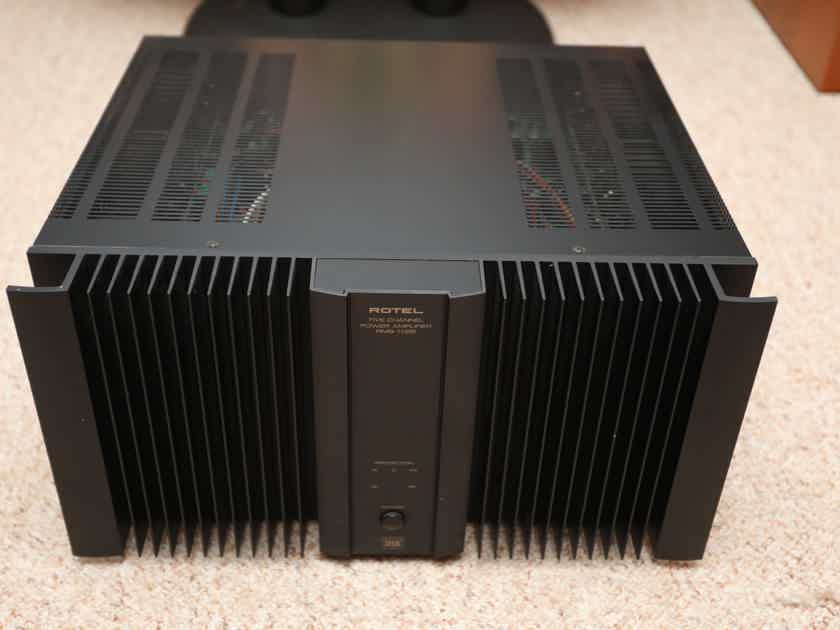 look this is just an absolute monstrosity of an amp. it was 2k new.
it weighs 75 lbs.
it's thx ultra certified. it will kick your dog and fuck your girlfriend. it will make fun of you for reading like a nerd but the manual is
here
.
200 watts rms x 5 into 8 Ohms, all Channels Driven, 20 Hz - 20 kHz @ THD: < 0.03%
330 watts per channel @ 4 ohms!
$800
jbl psw-1200
i've used this with my computer for a long time now. 120 watt 12" powered sub. 43 lbs apparently? surprised on that one.
$100
is this sub too small for you? don't worry, i got your back bro:
svs 20-39 pc plus
this sub is not the most likely to pass a wife test, but it can shake the fuck all out of your house. i mean i don't even try to get weird with this thing but it's got some serious power to unleash on you. if you live in a condo or apartment you should be friendly with your neighbors, that is for sure. it was $900 new i believe. 55 lbs, 40" tall, 12" 525 watts. this thing is awesome.
i can't find anyone else selling these and i really like, so, this may be something i just squirrel away too.
sup bro? heard you liked bumps for your car too?
12" kicker solo baric series d
senior year high school me heard your call. if my grandma was still here she could even throw in a grilled cheese for you and my sister could annoy you for free.
i have 2 12" kicker solo barics, series d. the last of the circular ones i think, certainly the last before they began squares. the reason why speakers are circles is to accurately construct sound waves. the reason why kicker turned theirs into squares was to move a little more air, but it certainly wasn't to make any higher quality sound. these fellas haven't been back in a car or hooked up since the last time i pulled them out for an autocross and got tired of doing so and putting them back in. quite fond of them though. 2 separate sealed boxes. these are selling amazingly high on ebay. as in 170 shipped without a box, wow. these boxes are nice and to spec. these were never used to the point of abuse. make me an offer but at the moment it looks like it will need to be a good one.
i got moar speakers, back to home stuff now.
all speakers that now follow are
axiom audio
. i've been using the black ones with my computer and cherry ones with my theater.
black m50ti
https://www.cnet.com/products/axiom-millennia-m50ti-speakers/
$350
black m1ti
Axiom Speaker Company Millennia M1 Ti Floorstanding Speakers user reviews : 4.9 out of 5 - 10 reviews - audioreview.com
$80
cherry m60ti
https://www.cnet.com/products/axiom-millennia-m60ti-speakers/
cherry qs8 surrounds, w/stands
https://www.axiomaudio.com/qs8-surround-sound-speakers
vp-150 center
https://www.axiomaudio.com/vp150-center-channel-speaker
$1300 for the set
richard gray power company 400s
i think this is a 400s. it is quite heavy for its size, it's a little brick, ac power conditioner. $250