Joined

Aug 12, 2007
Messages

14
Reaction score

0
Location
Well, some of you may have noticed, but probably not, I've been scarce the last week or so. Kind of down on my luck and all, but also I started a new project. I think I posted pics before, but I own a 73 rustang.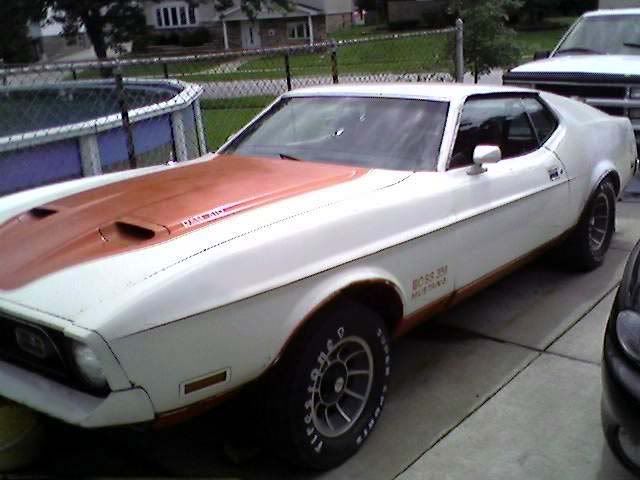 So I decided to start some CPR and breath some life into my little white beast. It has a 351 Cleveland in it (Basically one of the most saught after performance motors for a ford period.). Problem being... Car blew a head gasket with the previous owner, we didn't know. The car sat for quite a while with coolant in the cyls and now the pistons and cylinders, along with the valley and the heads, and basically everything on the motor is rusty. The block needs to be machined in a bad way.
The solution! My girlfriends grandpa gave me a race built 302 from a 1974 by rather coincidence, a year off aint too bad! So This is the engine you will see in the pictures. The one bank of cylinders has minor rust, thus the Marvel Mystery Oil filling up the cyls. Nothing a good oil soak and a hone can't fix. The thing has a mild cam, stock heads, low comp pistons, and aluminum valve covers. Intake and Exhaust manis are MIA, never recieved them.
The plan! I am going to take this block to a machine shop and have the cylinders bored 20 over, get a nice set of pistons, trick flow heads, Edelbrock intake manifolds, Hooker headers, Mallory distributor, crower cam for a nice lopey I'm gonna die idle, 4 barrel double pump carb, and polish the balls out of the valves, possible get them angled. I don't know for sure on the trick flow heads, I'm just hoping, but 700$ is a lot of money... I might just get these ones dipped ported and polished, get them resurfaced, double springs for the valves, and call it a day... Only time will tell, but I'll keep you updated.
I plan on painting the car red with black stripes when it's all said and done and give it a sleeper look. I will take some more quality shots later, but these will do for now!