Joined

Oct 26, 2005
Messages

0
Reaction score

0
Well after about a month of the car being gone she is finally home. Hans picked up the car early May and trailered it all the way to his shop. His mission. Finish my mess. Car had to have just about everything done to minus the BAP.
The set up
Kenne Bell 2.6H
I think it's a 3.1 upper
6lb Lower
EGR Delete
60lbs Injectors
Modded FPDM
Kenne Bell BAP
JLT True CAI
SCT 2800 MAF
4 Piece Billetflow idlers
Dual Ford GT pumps
and prob a few others I forgot
The goods....
Unfortunately when Han's picked up the car from my house I had just traded Jeff(Sharkster) my Black Bullits with the drag radials on it and had a 285 Eagle GSD 3 to work with on the dyno. Car spun the tires on the dyno with 2 people sitting in the trunk. The plugs are gapped at .025
Made 608 RWHP 587 RWTQ
21 PSI
19 degrees of timing at peak Hp
17 degrees of timing at peak torque
For the dyno she had a full tank of 110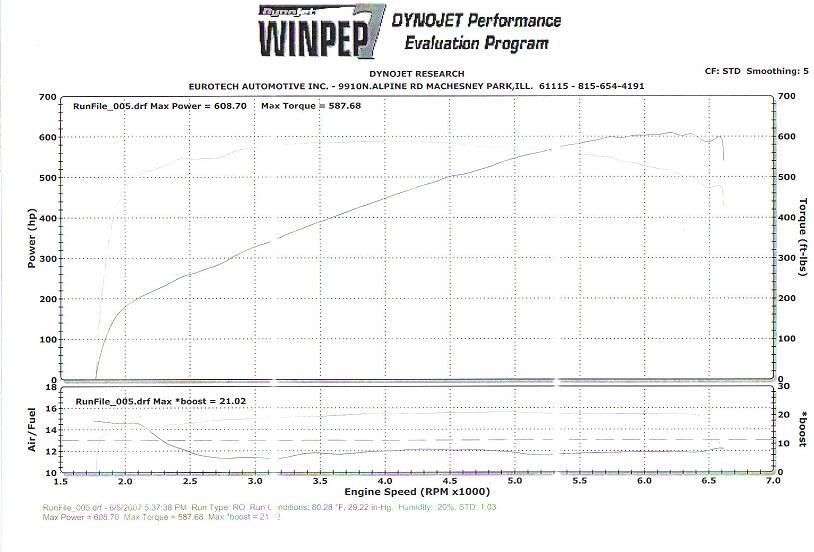 First impression driving the car.
It's definitely faster but not fast enough for me. Although I haven't really got the chance to learn the car as I have only had it for a few hours. It does pull very very strong.
Only problem I have had with the car so far is the idle will surge from 850-900 rpms drop to 600 or so then shoot up to 950. I think it might be because of the SCT 2800 MAF. I've heard of people having problems with getting a steady idle out of the car with that MAF. Also I have to re learn to shift the car. It's a lot harder to get the clutch to grab now.
I'd like to thank Hans for working on my car and keeping me up to date with things. He trailered the car from elburn to rockford and back to get it dyno tuned. He gave me exactly what I wanted and gave me a kickass price on everything.
Some pics