im selling a 96 cobra black on black leather. 90xxx miles interior land exterior look great. car runs fast and amazing. no problems. tuned by kurgan motorsports makes 415 hp and 368 lb/ft maxing out at 10.5 psi. it kept making more boost then expected so bob tuned it down to make it safer cause its not built. superchargers only been on since may.
it has:
centerforce DF clutch - only about 5000 miles on it
new clutch packs in diff.
i have 3.73's but never got them installed
walbro 255 fuel pump
Novi2000 supercharger
anderson powerpipe
90mm MAF
new belt
new trans and diff fluid.
HKS ssq BOV
42lb injectors
AFPR
autometer boost gauge
new plugs and wires
MSD coil packs thrown in (not currently installed)
new upstream o2's
flowmaster exhaust
fr500 knock offs
17x9 with goodyears in the front
17x10.5 with bfg's in the rear 275/40/R17
sony xplode cd player
BBK lowering springs
tinted tail lights and markers
xcal 2 tuner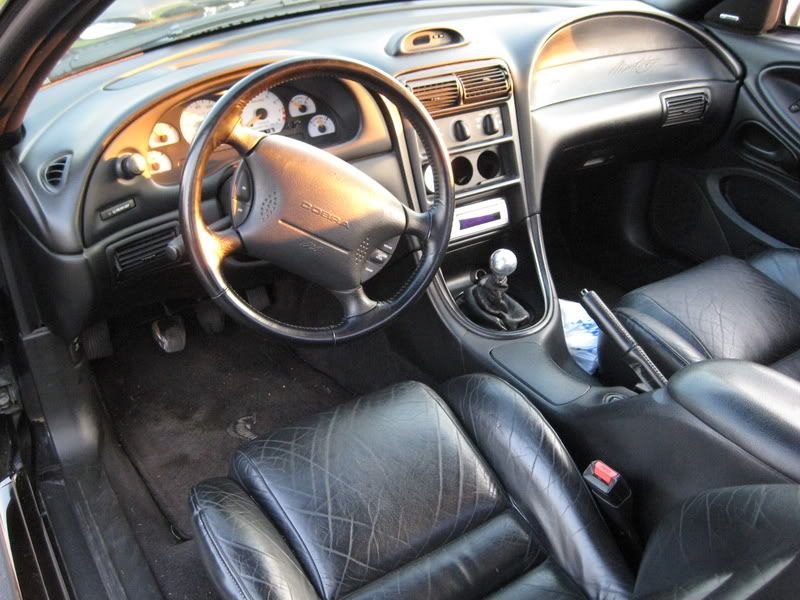 PRICE LOWERED 7,500 OBO
cars in great shape always kept up with oil changes and all stock parts included if wanted. if interested come check it out or make an offer.
call John (708) 539-8191 anytime
thanks alot