Joined

Jun 17, 2013
Messages

12
Reaction score

0
Location
I knew when I bought the car back in October 2012, that it needed new brakes. The following is documentation of my installation of the new rotors and pads that occurred in January. The old rotors were badly warped. I looked around and eventually settled on a front and rear setup from eBay seller Brakemotive76. Before I made my decision, I made sure to do research on the stuff they sell all the while thoughts of "don't skimp on brakes, you'll not only endanger your life, but the lives of everyone else on the road" floated around in my brain. I read reviews of the parts on C6 Vette and LS forums, even one site where they are a site vendor. I thought it was too good to be true for $199.48 with free shipping and no sales tax. 90% of the reviews I read were positive and with over 90,000 (yes ninety thousand) positive feedback posts on eBay, I pulled the trigger. I've had them installed for over 5 months now, and they are incredible. It stops on a dime and gives change back. The pads and rotors are made by PowerStop. Anyhow, here are some pictures.
Passenger rear rotor, they all look the same so only one pic before installation
Looks like I'm in for a serious case of heating and beating these puppies to come off. That didn't do the trick so I had to use that trick in the youtube video that requires the 1/2"x3" bolt and 2 nuts. It popped right off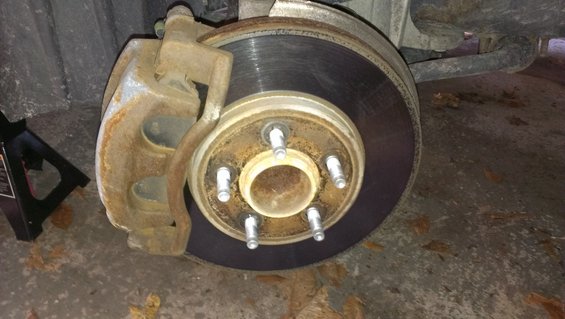 http://www.youtube.com/watch?v=mtsTJCRljAs
It almost looks like the old rotor was glued on!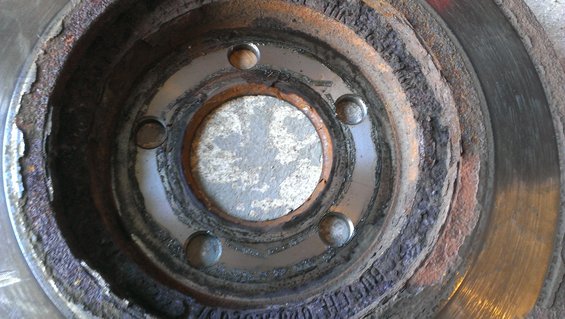 You can see the rust flakes on the ground due to so much work from the 8 lb sledge and the rust breaking from doing the bolt trick.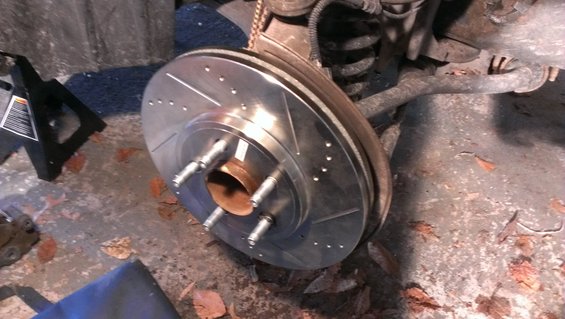 Pads are on!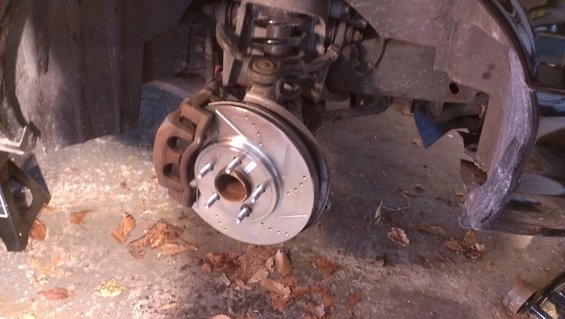 Driver's side all back together!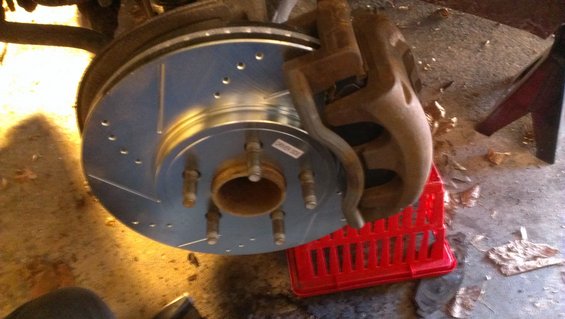 Got the wheels back on!
Close up of rotor, ignore my horrendously dirty wheels, they've since been cleaned and polished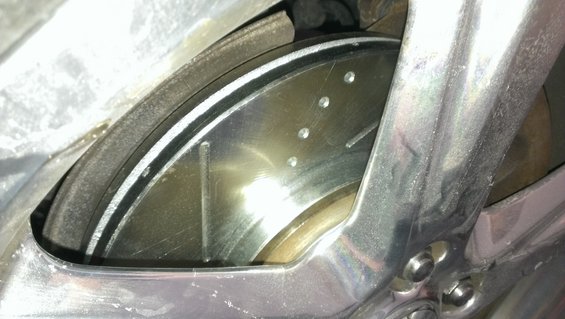 Thanks for looking! The rear rotors proved to be a little more troublesome. I soaked them in PB Blaster and let it soak overnight. Went out in the morning to check, and a missed swing with the sledge resulted in dislodging a wheel stud. WHOOPS! Sprayed it some more and let it sit while I went to work. Got home 8 hours later and they practically fell off. I'll be painting the calipers in the near future as well. Can't decide between the old standby of red or go with something a little more unique.