Plz place 3,000 kudos here. kthx
Joined

Sep 6, 2006
Messages

48,395
Reaction score

1,805
Location
As many of you know the car's been apart for a couple weeks for a head gasket that blew when the thermostat got stuck shut. It's all back together except for the intake and valve covers. I ordered a fluidyne radiator because the stock one was just old and too small. I also picked up a taurus fan because they are supposed to flow pretty good. Few questions for you wiring guys, what's the best way to wire this thing up? I'd have to make my own brackets and then figure out how the coolant reservoir is going to fit in there, not so sure about that. Is it really that much better than stock? Here's a few pics. I'm considering just bolting the stock fan back up because I don't like the idea of redoing the wiring, overflow tank, and brackets.... car should run cooler anyway, even with the stock fan since it has the new, huge radiator.
FYI when the car was running fine w/o any air bubbles and w/o the thermostat, it would stay under 200 degrees at all times on the stock fan and radiator.
The taurus fan supposedly draws a lot of current when it's switched on and such, also, most say you can't just run a switch for them.
What would I have to do to correctly hook up a manual switch to the stock fan so that I can run it whenever I want (in the staging lanes, right before a burnout, you get the idea)? Wiring just really isn't my thing.
plug in for stock fan
taurus fan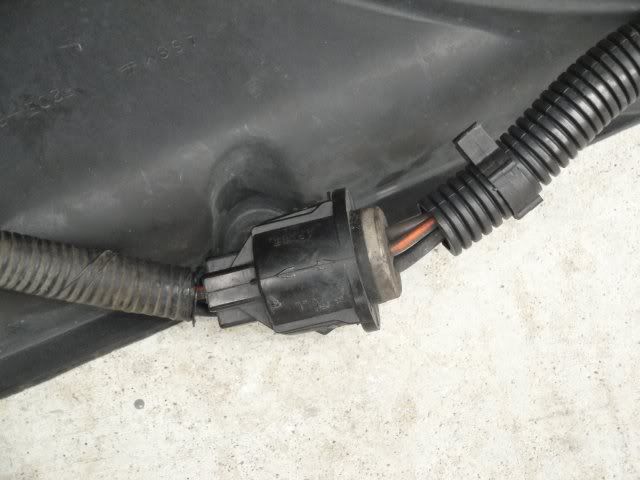 the 2 compared (original on left)
And, for the hell of it, old and new radiator.