I've got this friend of mine who is a SHO nut... literally. He absolutely loves the car and he absolutely loves Ford. Delusional or not, you always know where he stands. Over the 8 years I've known Ryan he's done some pretty neat things. His driving netted him the fasted stock recorded 1/4 mile time on a V6 SHO, his mechanical skills aided him in being the first to put a manual transmission in a V8 SHO and his purchasing prowess helped him find a 40,000 mile MINT 1989 SHO that he takes all over the country to various events...
That stuff alone is pretty cool. Even cooler is that Ryan is the owner of bringbacktheSHO.com and though he won't admit it, his website and the PR it received is probably the reason Ford decided to use the SHO monicker instead of something else for the new twin turbo Taurus. Ford invited him to the press introduction of the new SHO (and he invited me) and the night before the event we went out with a bunch of Ford corporate guys who said it was difficult not telling Ryan that the car had been given the green light months prior.
With a resume like that you might wonder what else someone could do. Well...
So way back in the early 90's when the Taurus SHO was popular there was a team of 4 racecars that used to run the Firehawk series. They were all Taurus SHOs. Back then the Teenage Mutant Ninja Turtles where also popular. Four race cars, four turtles... Why not theme each race car for a particular turtle? And that's what they did. Each fully equipped race car was themed after Donatello, Rafael, Michelangelo, and Leonardo.
After all was said and done the racecars ended up in private hands, stripped of their decals, and often raced in private events. The last known car to exist, Rafael, was on the market. Ryan bit. Completely stripped of any decals or paint that would show this was ever a turtle car, Ryan had only pictures of the originals to go off of to bring the car back. He replaced the dented fenders and started going to work. A couple months later this is what he had...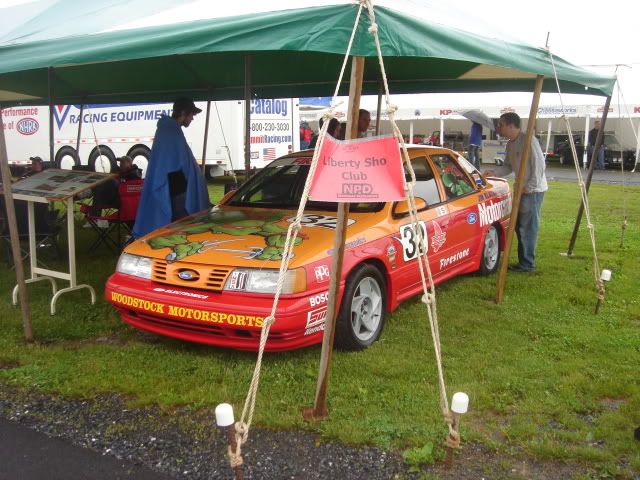 And that, ladies and gentlemen, is absolutely badass in my eyes!
More info:
http://www.shoforum.com/showthread.php?t=99832