Joined

Mar 5, 2006
Messages

5,632
Reaction score

105
If you haven't been following my threads here is the start.
http://www.modularfords.com/forums/f17/bent-liberys-input-shaft-might-try-86710.html
I ended up pulling the trans out today. Right away I spun the shaft and I was correct, the input shaft was bent.
I was going to send it out to Liberty to have it straighten but I think im just going to order a new one.
Also I noticed the shim is melted on the oppsite end of the input shaft due to the heat of the bent input shaft. Hopefully end play will be in spec or I will have to fix it.
Got some great video of it. The first video is the top view of the shaft. The sec. video is a side view, if you look between the throw out bearing tube and the input shaft, you can see the wobble. Also in the sec vid. you notice CobraChris08 say "go" very quietly! Thanks Chris you rock!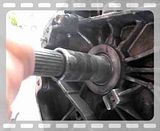 Kevin