Joined

Jul 25, 2005
Messages

93
Reaction score

0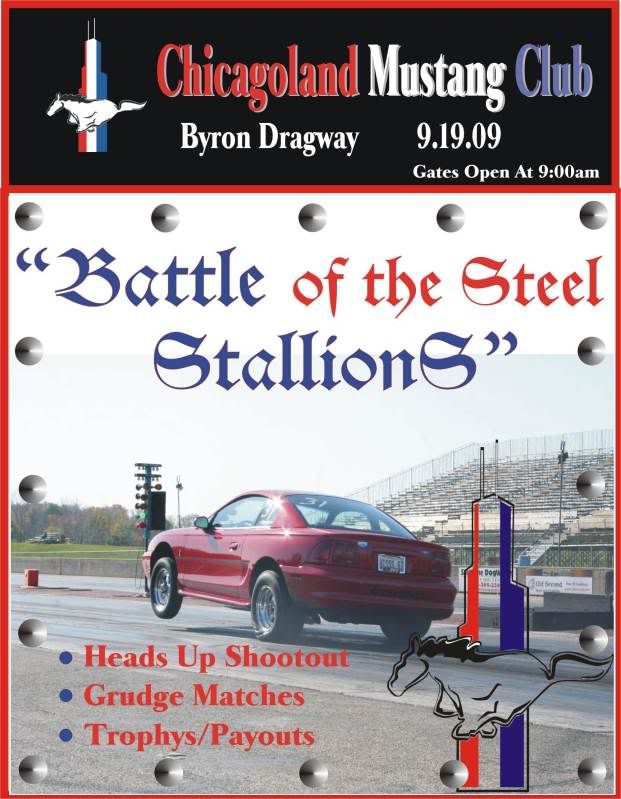 Registration Required!

CMC Track Day
Byron Dragway
We will be the Main Event!
There will be two formats for the day.
Format 1: Heads Up Grudge Matches
This is simple if you have a grudge match there will be a thread posted for you to challenge someone. If they accept your challenge the race will be setup and scheduled for the event. We will be limiting the Grudge Matches to two per entry so choose wisely........and be careful who you challenge you may get whacked!!!
Format 2: CMC "All Out" Shootout
This will work just like Pinks All Out. At any given time during the day we will accept timeslips for your entry to be selected for the sweet sixteen. After we have all the entries we will then go through and select 16 cars to be in the main event. We may select sixteen 10 second cars or sixteen 14 second cars, or we may split the field. Thats the fun part. The entries we pick will then be paired by their times in a heads up all out shootout. To determine the winner!! Dont sandbag either you will get caught as we will have a printout of what every car in the event ran throughout the day if you run to fast you will lose your race.
We will be running test and tune in our lanes all day as well between the events.
There will be Payouts and Trophys for the winners.
There will also be other prizes to win throughout the day.
Battle Of The Steel Stallions Entry: $35.00 Paid On Raceday.
You Must Register In Advance!!
Chicagoland Mustang reserves the right to reject any entry. If your entry is rejected you will be informed.