Joined

Mar 1, 2004
Messages

5,129
Reaction score

7
We've all assembled lowers (at least I think), but up until recently, I haven't assembled an upper. I got all the tools from mostly Brownells, so I decided to document a build.
In my opinion, it's actually easier to build an upper with a rail, rather than the plastic handguards.
A year ago, I started getting pieces together for a "budget build."
I picked up a Mega Maten Lower, and figured I'd wait for a deal on an MLOK railed Mega upper. Well that fell through. I started buying stuff from the Equipment Exchanges on several different web sites.
Parts list.
Mega Maten Lower (new) $275 shipped
Maten billet Upper (used) $175 shipped
Brownells 2 stage trigger (new) $60 shipped
DPMS lower kit without FCG (new) $20
MOE Grip (new) $15 shipped
PSA 7075 receiver extension $25 shipped
Magpul QD end plate $15
Brownells AR308 spring and carbine buffer (new) $25
Aim NIB BCG (new) $150 shipped
Ballistic advantage Midlength Melonite 16" barrel (new) $130 shipped
BCM pinned gas block $45 shipped
BCM Comp (used) $35 shipped
SLR MLOK Solo rail 15" (used) $125 shipped
Magpul ACS light Stock $50 shipped
Cost to pin the gas block $45 shipped
Total $1190. For the parts, I think I did alright.
Here's the barrel back from Marvin Pitts at Nefarious Arms. I sent the barrel and the barrel nut, so he could install the nut first.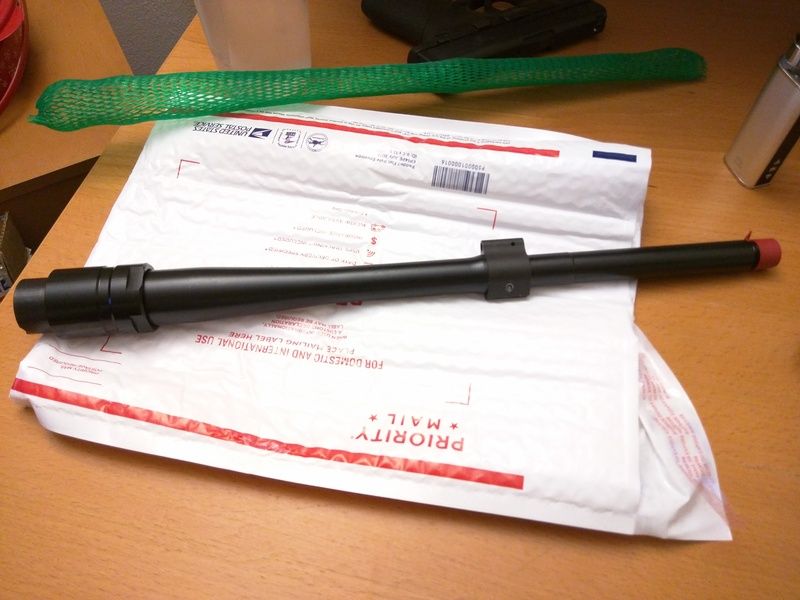 Here's the upper and the clamshell vise block before going into the vise.
I had to heat up the upper with a butane torch to massage the barrel in. Nice tight fit.
While in the vice, it was stable enough to install the gas tube pin.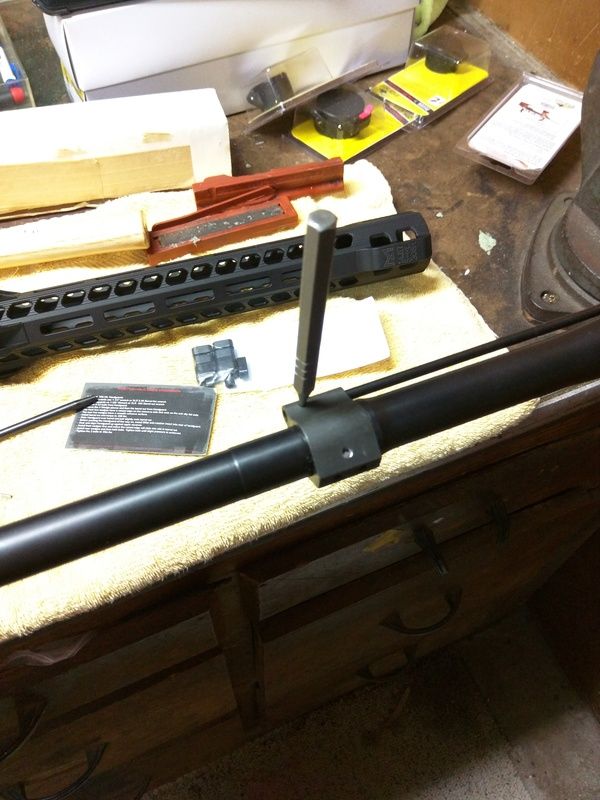 Installed the rail to and screws to 30 in/lbs. I used my Yankee Hill machine upper block to make sure the rail and upper were in perfect alignment.
Comp and new crush washer
Knight's stick receiver extension tool to install the compensator.
Finished product. Took about 25 minutes to assemble. Much easier if you have all the correct tools.