Welllllllllll ya knowwwwwww.....
Joined

Jun 16, 2007
Messages

26,499
Reaction score

12
Location
since we are all pointing out how slow i work, these were an xmas gift to my old man along with me spending hours with a mothers headlight polishing kit on the 12 square feet of clear plastic that are the headlights.
well you can kinda guess that with a sealed unit this freakin huge it aint cheap to get a new one. so screw it, polish the dull, leave the craze alone and throw some 4 wheeler eyeball frying hids in there just to piss all you assholes off
well ddm tuning harness's suck, if anyone needs two ddm harness's let me know youll get em cheap. their bulb simulators, suck, i have two of them, let me know.
and here's where i will now bitch about the lovely pita nature of modern vehicles.
these dot inspections are relentless, anything they can make a buck on ya for, fault codes too, so hid didnt go on the truck, onboard chassis control module had to be reprogrammed on 6 seperat parameters to disable the DRL PWM controls, the circuit diagnostic functions, and also set low beam to constant on with highbeam activation.
so truck gets driven with the halogens for a bit longer, but at least i mounted the fullsize HD ballasts inside the headlight capsules, let me say that again, its mounted INSDIE the damn housing, i could fit like 6 more hid balasts inside them

i decided that it would be better to build a new harness that spliced into the factory headlight harness.
in these newer trucks, our 07 being one of the first with EGR and the projectors. volvo did offer hid's on these trucks in fact i thnk its standard for the 2010 volvo's
their system used the original chassis control module outputs to run two 20amp relays to pwer the balasts on factory equipped trucks.
goodluck finding volvo diagrams if you dont work at a dealer lol
it has issues (they didnt enable low beam with high beam) but its up and running. overengineered and under budget.
i built it for 3 times actual load, its a weathertight fused 10ga to pair of older weatherpack sealed GM 50amp relay's one for each side to 12ga spliced into the factory 16gauge, full tillt down to the liquid electrical tape under shrinkwrap. its gotta last a million miles right?
i cut and bent up the stainless bracket for the relay and fuse mounts, it bolts right to the alternator bolts and connects right to the output terminal.
the old man enjoys the new 5k hid's, doesnt like the blueish edges but he's gonna try it for a full week then switch out with the 4500k bulbs.
btw wire was in my minty wire collection,
i paid about 5 bucks for each relay and harness from junkyard, fuse holder was in pile so id say it cost the tax.
stainless is the side of an old register system, i have a ton of it thanks to Al, quite handy stuff.
maybe a 5$ package of shrink wrap and a bottle of liquid tape i had on hand from wagn work.
i got to install it in a wide open truck stop lot with 40mph winds, that is fun stuff let me tell ya
aanyways on to some pics and a vid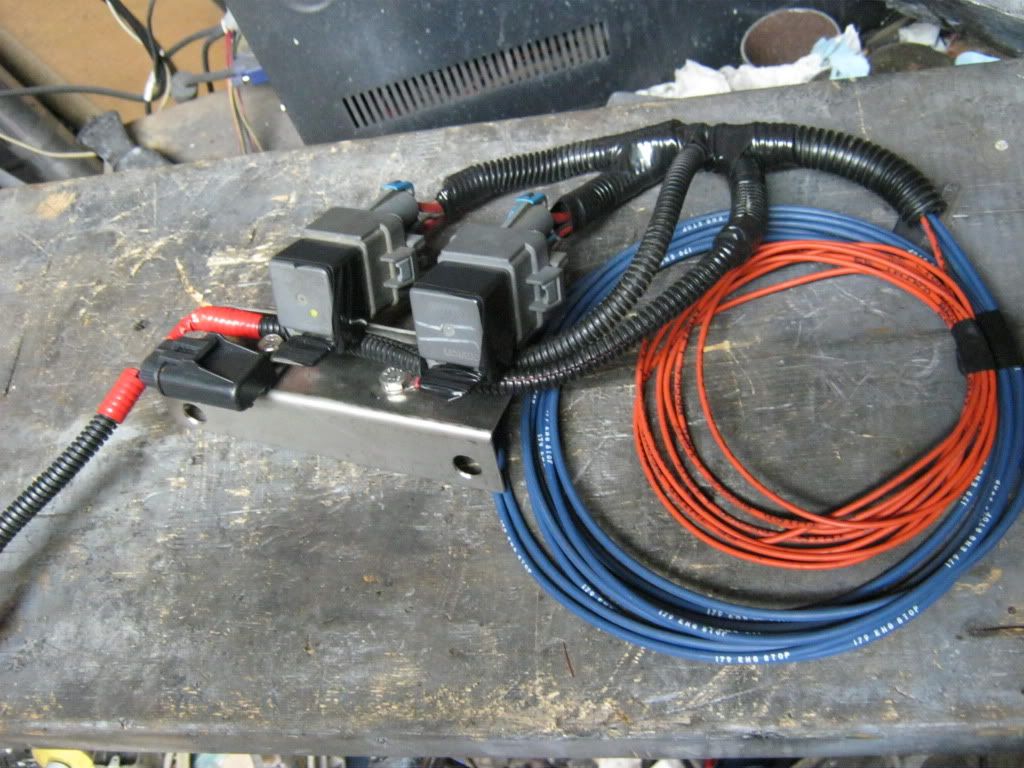 mounted and fully wired
hunka junk
works great, and yes they are aimed fine, dont get your panties in a bunch, i was less than 10 car lengths in front of him on the way back and it was better than alot of the cars passing us.